COURTESY OF MANDY RYAN
Trooper.
"When they carried him in, it was like carrying in a carcass," Katrina Campbell, a volunteer with Stray Paws Rescue in Farmington, recalls about the evening of February 19, when Trooper, a yellow lab mix, was brought to her home. In the three years she has been a volunteer, she says, it was the worst case she'd seen. "The smell was almost like death."
Campbell had been contacted by a local couple named John and Debbie Rotert, who'd found Trooper in a ditch and said it was almost like he was suctioned to the ground. When Trooper arrived at Campbell's house, his injuries were extensive. He was paralyzed from the waist down and the yellow fur on the back end of his body was red and rotting from laying in urine. At the time, she believed he had been hit by a car.
"I got down on my knees, kissed him on the head and said a prayer over him," Campbell says. But when she asked him for a sign that he wasn't done fighting, Trooper picked his head up and licked her face.
One week later, Trooper is still fighting, getting stronger every day. But for Campbell and fellow advocate Mandy Ryan, who has assisted in pushing for Trooper's abuser to be prosecuted, the case is disturbing in what it reveals about the treatment of animals in rural Missouri — by both residents and law enforcement.
Ryan learned about Trooper's story after Campbell posted photos online. As president of the rescue Missouri K9 Friends, Ryan is used to seeing sick or hurt animals, but Trooper's case went far beyond the usual. It was, she says, "not a normal situation."
Initially, Trooper was not expected to live through the night. Ryan says they believed he had a broken back and his pupils dilated at different rates, indicating head trauma. It was not until the next morning, when Trooper seemed to be doing better, that anyone noticed signs suggesting his injuries were caused not by a car, but a person.
Animal laws in St. Francois County are basic. Dogs must be on a leash or on a chain if the yard does not have a fence. They must have a doghouse for shelter if they are an outside dog — which many are. But one law stands out. According to Campbell, in more rural areas, if a dog is loose and wanders onto private property, and seems to be destroying it, it is within the property owner's legal right to shoot the dog.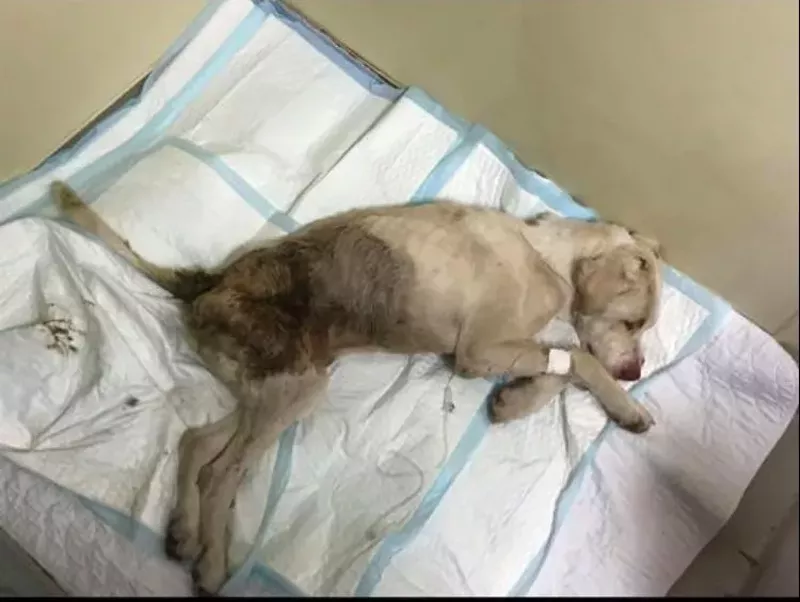 X-rays revealed that Trooper had no broken bones, which left rescuers wondering how he had become paralyzed. Soon after, they discovered a bullet wound on his neck. From there, they deduced that the strange bumps on his head looked intentional.
Ryan began looking into Trooper's back story. She found his owners, who signed him over to the rescue and shared that he had a history of getting loose. But they hadn't harmed him, and so Ryan began asking around the community about stories of animal abuse. Everyone pointed her towards one man who, they said, would know if anything was going on.
Ryan called the man expecting to get new leads. Instead, she got a confession. The man, whom the
RFT
is not naming since he has not been charged with a crime, told Ryan that he shot Trooper. The man admitted to shooting dogs before and told her that Trooper was after his female dog. He originally shot at his foot to scare him, but missed and hit him in the neck, according to Campbell. Thinking he was putting him out of his misery, the man hit Trooper in the head with a hammer, a technique farmers often use to kill rabbits. He then dragged Trooper to the ditch. The dog apparently laid there for three weeks before the Roterts found him.
While the man was likely acting within the law when he shot Trooper, the situation changed when he decided to take a hammer to his head. According to state law, a person commits animal abuse when he or she "intentionally or purposefully kills an animal in any manner" outside methods approved by the American Veterinary Medical Association's Panel on Euthanasia or when a person "purposely or intentionally causes injury or suffering to an animal." A hammer attack would seem to qualify.
Last Friday, Ryan compiled the information and went to the St. Francois Sheriff's Office, where she spoke with a deputy. Ryan provided a statement as well as a list of witnesses willing to testify in court. She shared that the man gave a full confession and expressed a willingness to accept punishment. Believing it would be an easy case to prosecute, Ryan left the deputy thinking all he would need to do was file the report to the prosecutor and Trooper would have justice, she says.
The same night, Campbell overheard the deputy discussing Trooper's case in a local bar. After confronting him, her initial reaction was that the deputy had no interest in covering the case. When she reminded the officer that the man's actions were illegal, his response was a shrug of the shoulders, she says.
"He said that if they had gotten the call before us, they would have put a bullet in his head and called it a day," Campbell says. "There would have been no investigation, no report, they never would have known that he was there in an abusive way. I want that mindset to change."
Reached yesterday afternoon, the sheriff's office said the deputy was not available to talk. The office would not provide us with anyone else to talk about the incident either.
However, late yesterday, Campbell says she believes the sheriff's department has had a change of heart and is now taking the case seriously. She believes the deputy now "has every intention of pressing charges," easing her fears that if no action was taken, it would send a message that this behavior towards animals is OK.
Still, both Ryan and Campbell say they have concerns about the treatment of animals in rural parts of the state. Farmington is only an hour outside of St. Louis, but the incident suggests a different mindset toward animal cruelty than in the city. And law enforcement in such places, Ryan says, can be unwilling or ill-equipped to handle such cases.
"The locals are always looking for help, but they won't receive any," says Ryan. She recalls that she was once contacted by an animal rescue that was afraid to approach law enforcement about a man shooting cats for fun.
And Farmington has no formal animal control office, so animal-related calls fall to deputies. There is no one to help them prosecute suspects. With little resources, officers often brush off animal abuse cases.
Campbell says she often gives her phone number to police as someone they can call in animal abuse situations. "We need to work together to let them know people will come help," she says.
She also believes that people are simply unaware that their actions are harmful to their pets. In an area where many dogs live more or less outside, not having adequate shelter in cold weather or providing enough water and shade in intense heat can be areas where education, and enforcement, are needed. "Officers don't lay down the laws on shelters or being on chains," she says.
Trooper is progressing slowly. The next step for the lab is to see if he will walk again — and to see whether the county prosecutor pursues a case.
If you're wanting to donate money to Trooper's recovery, Missouri K9 Friends has started a
FreeFunder called Team Trooper
. The organization is hosting a fundraiser at the Midtown location of Urban Chestnut (
3229 Washington Ave.)
on March 9.

Editor's note: A previous version of this story contained inaccurate sourcing for the claim that the man aimed to shoot at the dog's foot and missed. Campbell shared that information with the RFT, not Ryan. We regret the error.