A former St. Louis police officer is facing criminal charges alleging he forced a pregnant woman into giving him oral sex.
John Stewart was allowed to retire from the St. Louis Metropolitan Police Department after the woman filed a complaint about their interaction in June 2015. But the St. Louis Circuit Attorney
reopened the case last December
after the woman's cousin, documentary filmmaker Matt Houchin, made a short film about her ordeal.
The woman, Brittany Walker,
spoke to the RFT in December after being connected by Houchin
. She agreed to let us use her name, saying that she has left St. Louis and no longer fears reprisal. The story drew wide attention, with
the Kansas City Star
and
the AP
following up on Walker's claims.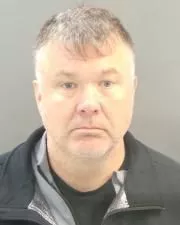 VIA SLMPD
John Stewart.
Now Stewart is facing one count of sodomy, as the
St. Louis Post-Dispatch
first reported last night. The paper said Stewart had been on the force from 1989 to June 13, 2015 — the very day after his interaction with Walker.
As Walker told the
RFT
in December, she'd called police seeking assistance with a domestic situation. Six months pregnant with her fifth child, she needed assistance after her estranged husband allegedly stole her car.
Instead, the officer who responded asked her if she was freaky. "No, I'm married," she responded. He then indicated that she should give him oral sex, she said.
Walker said that recent incidents involving the police shootings of Vonderrit Myers Jr. and Michael Brown were on her mind.
"I didn't have it in me to just say, 'Get out,'" she said. "I didn't know how to respond. ... I didn't know if he was going to get upset and flip out about him not getting what he wanted." Of the police, she said, "I thought they didn't have a problem with killing people. I honestly thought that if I told him no, he would kill me in the house."
After the act, she said, she threw up in a towel. Then she called her mother, who told her she had to report what had transpired.
In the two years that have passed, Walker endured Hodgkins lymphoma, undergoing chemo while raising five kids. For a time, she found herself in a homeless shelter.
Still, she found herself wondering about the officer. She was convinced by the way he treated her that it wasn't his first time. "He knew exactly what he was doing," she said.
The circuit attorney's office filed the complaint against Stewart on January 31, court records show, with a warrant issued for his arrest the next day.
The former officer posted a $60,000 cash bond on February 7. He currently lives in O'Fallon.
See Houchin's film below.
We welcome tips and feedback. Email the author at sarah.fenske@riverfronttimes.com