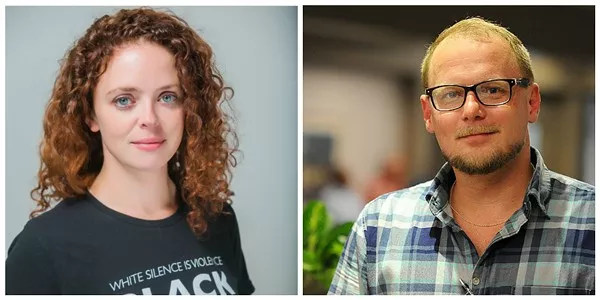 COURTESY OF ANNIE RICE/HOLLY RAVAZZOLO
Annie Rice, left, easily bested Paul Fehler
Paul Fehler had the backing of the city's Democratic Central Committee — but that wasn't enough. Not nearly enough.
Immigration lawyer Annie Rice bested Fehler, a data analyst, in a
special election to replace Stephen Conway and represent St. Louis' 8th Ward at the Board of Aldermen
. According to
final but unofficial election results
, she took 1,279 votes to his 853, a margin of nearly 60 percent.
Rice had defied the central committee, of which she herself is an elected member, to run as an independent after the group gave Fehler its endorsement. The committee's vote allowed Fehler to run as the official Democratic candidate, which historically has often been enough to claim an aldermanic seat.
But Rice won the passionate support of progressive voters in a ward that increasingly does not support the city's old-guard Democratic machine. The ward, which includes Shaw and part of Southwest Garden, voted against the sales tax increase to increase police pay, for example,
even as a firm majority of voters supported it in most city wards
.
Rice and Fehler were both part of the wave of progressive candidates who
fought for, and won, seats on the central committee in the fall of 2016
. But Rice was far more representative of the progressives who've challenged the city's status quo in recent elections. She personally opposed the police pay increase and proudly wore a Black Lives Matter T-shirt in her official campaign photo.
And while the election was frequently divisive on social media and in neighborhood conversations within the 8th Ward, in the end it came down to the 2,144 voters who turned out today — 28 percent turnout. Rice, the results show, had their fulsome support.
See also: After Annie Rice's Victory, Democrats Weigh Punishing Her Supporters
We welcome tips and feedback. Email the author at sarah.fenske@riverfronttimes.com