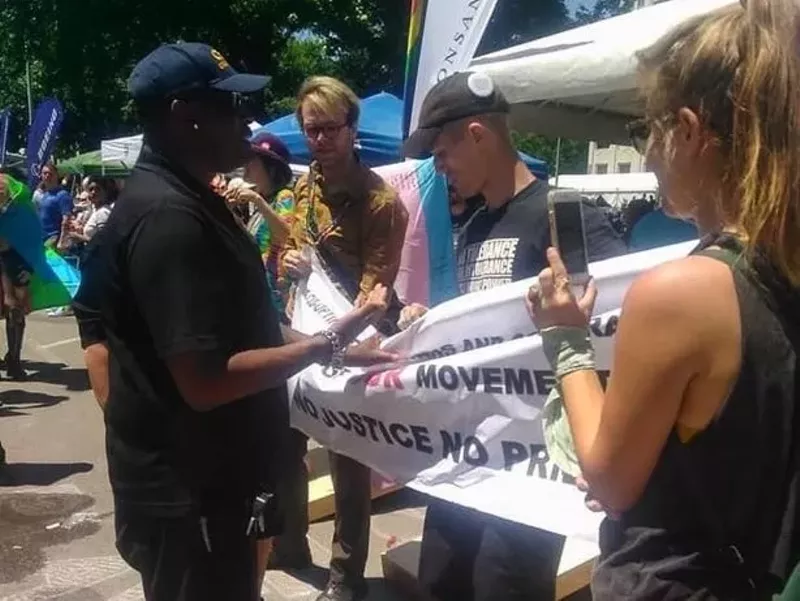 PHOTO COURTESY OF JUSTIN MICHALIK
Justin Michalik, center right, holds a protest banner at the Monsanto booth shortly before his arrest on June 26.
One week after Pride St. Louis
publicly pleaded with the city
to drop the charges pending against two activists who were arrested last year while protesting PrideFest, the activists got their answer: Sure.
One of the activists, Justin Michalik, tells
RFT
that he received word on Wednesday that the city had dropped the municipal charges of trespassing and interfering with an officers. The news was a huge relief.
"They kept delaying, giving us different court dates after different court dates," Michalik says. "I don't know what the reasoning was."
The arrests dated back to June 26, last year's PrideFest. In a video posted to Facebook, Michalik and others can be seen holding a banner in front of Monsanto's booth at the event and chanting "No justice no pride." Later, the video captured Michalik being carried to a patrol vehicle by two bike officers.
Onlookers to the arrest, Michalik claims, cheered as officers took him away.
"A pedestrian actually leaned into my ear and told me he was a veteran and that if he had the chance he would kill me. We got out into the police car, and we could hear people cheering to the police, 'Good job, officers, we support you.'"
Michalik says the protest had been unplanned. When the group of activists encountered the Monsanto booth, he says, they decided to "interrupt" the proceedings as a way of opposing "the corporatization of Pride."
In fact, months after the arrest, Michalik assumed that it was Pride St. Louis that was pressing for charges. But that wasn't the case. In a letter dated January 23 and addressed to Mayor Lyda Krewson and Public Safety Director Jimmie Edwards, Pride St. Louis President Matt Harper requested "in the strongest possible terms" that the city drop the charges. The letter noted that
"the history of the Pride Movement, in fact, has its origins in protests."
The letter was surprise, Michalik says. And while he's thankful for the charges being dropped, he says that the event will see more protests the future.
"It's St. Louis' LGBTQ scene and community, and there are a lot of people who want to celebrate that fact, which is great, but they're wanting to do so while ignoring how they even got the rights to do that. They're ignoring that Stonewall was a riot, that LGBTQ rights have all been gained by protest," he says. "That's what we were doing, that's what we'll continue to do to get this messages across to people."

Follow Danny Wicentowski on Twitter at @D_Towski. E-mail the author at Danny.Wicentowski@RiverfrontTimes.com