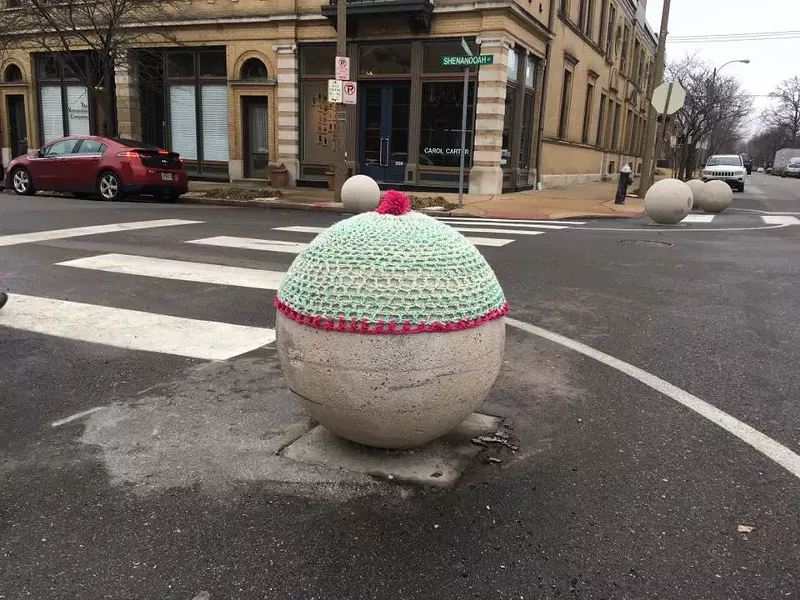 COURTESY OF BROOKE ROSEBERRY
A cozy ball at the intersection of Shenandoah and Compton.
If you've driven around St. Louis' 6th Ward lately, you've probably noticed
the prodigious concrete balls
stationed at six intersections along Compton. Intended to encourage drivers to slow down at intersections and stop signs, the balls have also drawn grumbles from motorists and locals.
Brooke Roseberry is one of those locals, and she readily admits that she's not the biggest fan of the balls. But she's also grown weary of the negativity surrounding the controversial spheres, and so she decided to add something cozy to the picture: a ginormous hat.
And when we say "ginormous," we mean
ginormous
.
COURTESY OF BROOKE ROSEBERRY

See Also: St. Louis' Huge Balls Keep Getting in the Way
Roseberry tells
Riverfront Times
that she started crocheting the adorable and monstrously-sized head-piece during a meeting of the monthly Stitch'n Bitch knitting group held at the nearby Kitchen House Coffee.
"I had all this wool from a blanket that I never finished, and I wanted to get rid of it," she says. All told, the work took around three hours to complete.
So far, only one ball, at the corner of Shenandoah and Compton avenues, is rocking a Cartman-style beanie, but Roseberry hopes her cozy artwork will encourage more.
"I'm really hoping that more people will do them, to decorate all the balls," she says. Painting, she warns, would likely raise the hackles of city officials. Hats seem like the safest route. "If anyone wants to do one, they definitely should feel like they can. The more the merrier."
You hear that, knitters and crocheters of St. Louis? We've got some balls that need hats! Top hats! Derby hats! Bowlers! Ten points to the first crafter who sticks a fez on there.

Follow Danny Wicentowski on Twitter at @D_Towski. E-mail the author at Danny.Wicentowski@RiverfrontTimes.com