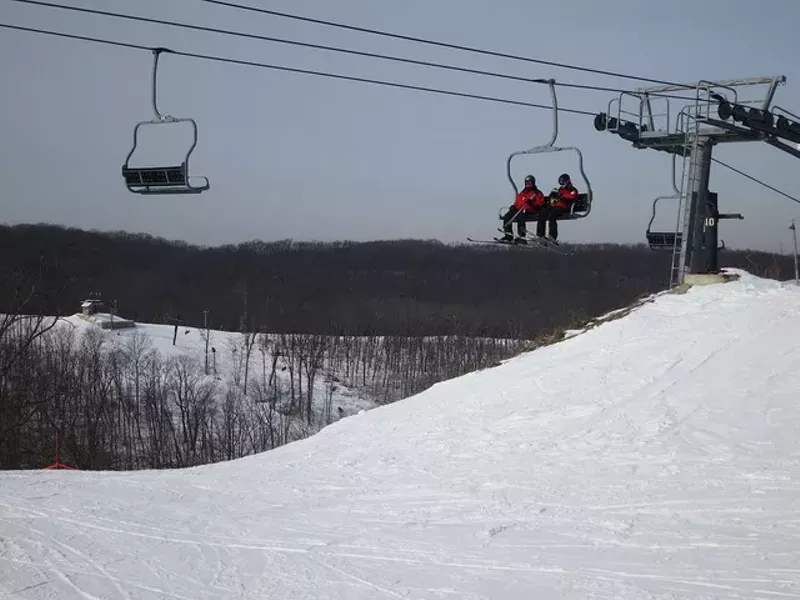 Skiing and tubing aren't the only activities you'll be able to do at Hidden Valley Ski Resort in the future.
The City Council of Wildwood passed a resolution last night that will allow four ziplines to be built at Hidden Valley, the City of Wildwood announced in a press release yesterday. The resolution gives a modified Conditional Use Permit to Peak Resorts, authorizing the parent company to construct ziplines at the Wildwood resort within specific parameters.
As approved by the Planning and Parks Committee earlier this month, two of the ziplines will be relocated farther away than originally planned from homes nearby. The ziplines will also operate all year, but with modified hours of 9 a.m. to sunset.
The new attraction will give Hidden Valley the ability to stay open year-round — an idea that owner Tim Boyd began pursuing last year due to the mild winters in recent years, as
KMOV
explained in November. Warmer winters means having to make more snow, which costs more money.
While the ziplines are meant to ease those struggles, the proposal has not come without its obstacles. Negotiations have been in the works between the city of Wildwood and Peak Resorts for months. As the
St. Louis Post-Dispatch
reported in early November, Boyd anticipated having to shut down Hidden Valley after the St. Louis suburb's Planning and Zoning Commission approved the project in a way that would force limited hours of zipline operation.
Boyd insisted that any changes to the hours would make the plan impossible. Later that month, when the commission voted against extending the hours and months of operation, he called it a "death certificate" for the ski resort, according to the
Post-Dispatch
.
The proposal eventually went to the Planning and Parks Committee for further review, and on January 2 the committee voted unanimously to create the changes that the Wildwood City Council ultimately voted upon last night — changes that are amenable to Hidden Valley.
"I am pleased that a compromise was reached," Wildwood Mayor Jim Bowlin said in a statement, "and that our city's process allowed that to happen."
We've reached out to Hidden Valley for any specifics about when zipline construction will begin; we will update this post if we hear back.