DOYLE MURPHY
Rigo, center, and other Dreamers in orange hats lead a demonstration in front of Sen. Roy Blunt's office.
Brian, a 23-year-old Dreamer who lives in St. Louis, sees the country's politicians cast his future from side to side on a daily basis.
"They're just playing with our lives," he says.
Since arriving from Mexico at age eleven, he has spent most of his life in the United States. On Wednesday, he was among a group of about 50 people who stood outside the Clayton office of Senator Roy Blunt (R-Missouri), calling on the Republican to support a deal that would protect young immigrants like himself from deportation.
President Trump has tried to phase out Deferred Action for Childhood Arrivals, often called DACA, an Obama-era program that allowed so-called "Dreamers" who entered the country without permission as kids the ability to go to school and work in the U.S. The U.S. Supreme Court has blocked Trump's efforts —
at least for now
.
A bipartisan group of legislators has been trying to work out a deal, but Trump rejected the plan and questioned why we would want more people from "shithole" —
or maybe "shithouse"
— countries in Africa or Haiti instead of wooing people from, say, Norway.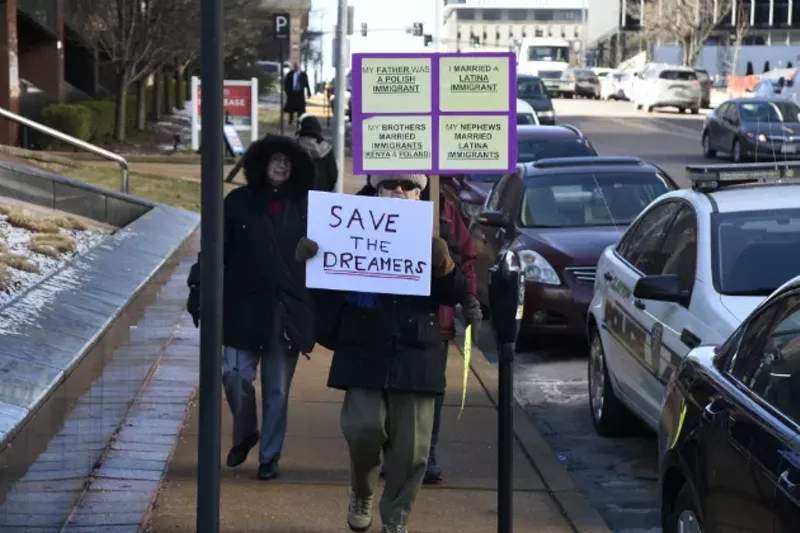 DOYLE MURPHY
Protesters call on Sen. Roy Blunt to support the Dream Act.
In the background of debates about the president using bad words to punctuate racist ideologies are
hundreds of thousands of young students and workers
waiting to see if they will be forced from their homes.
A local group,
MoDreamers
, organized Wednesday's rally as part of a campaign to pressure politicians like Blunt to take a stand. Blunt issued a statement in September 2017 saying Dreamers need a "permanent, common-sense solution" that would let them continue working and studying in the U.S. He added that it was "imperative" that legislators work with Trump on border security.
Since then, he's mostly avoided the issue.
"How could he say so little about something that matters so much?" Rigo, an eighteen-year-old St. Louis Dreamer asked on Wednesday.
No one from Blunt's office came outside to speak to the group. The activists want what's become known as a "clean" Dream Act. They worry that Republicans will wrangle funding for border agents and ramped-up deportations as part of any deal to extend DACA.
"No hate!" demonstrators chanted. "No Fear! Immigrants are welcome here!"
DOYLE MURPHY
About 50 people protested on Wednesday outside Sen. Roy Blunt's office in Clayton.
We welcome tips and feedback. Email the author at doyle.murphy@riverfronttimes.com or follow on Twitter at @DoyleMurphy.