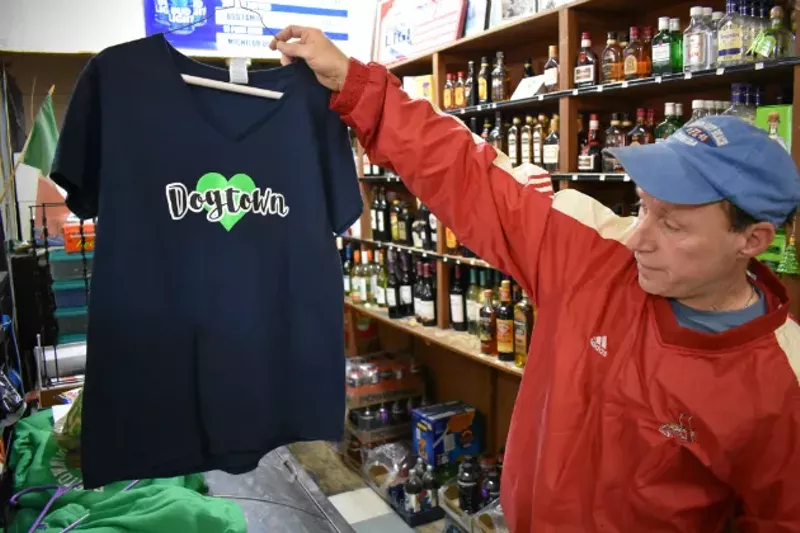 PHOTO BY DOYLEMURPHY
Patrick Wrzesinski, owner of Patrick's Dogtown Liquors, holds up a bullet-pierced T-shirt from a burglary.
A pair of burglars narrowly escaped from a St. Louis liquor store after the owner locked them inside.
Patrick Wrzesinski, owner of Patrick's Dogtown Liquors, lives above the store and heard the thieves early Thursday morning. He checked the monitor of his video surveillance and spotted a couple of strangers, their faces wrapped up in scarves and hoods.
"I ran down and locked the door," he says.
When the crooks figured out they were trapped, they panicked. Wrzesinski says they climbed on top of a cooler and started trying to bust out the front window, but the tempered glass was too strong.
"They tried to kick out the window and bounced back," he says. "I heard a 'ka-thunk'" as they hit the floor.
The situation took a frightening turn when one of the burglars pulled out a gun and blasted through the window, the bullets rocketing across the street and into a second building. They were then able to smash their way outside and escape.
No one was hit during the gunfire.
Police say they responded about 5:30 a.m. After fleeing the store at Tamm and West Park avenues, the suspects got in a maroon Ford SUV and drove south on Tamm.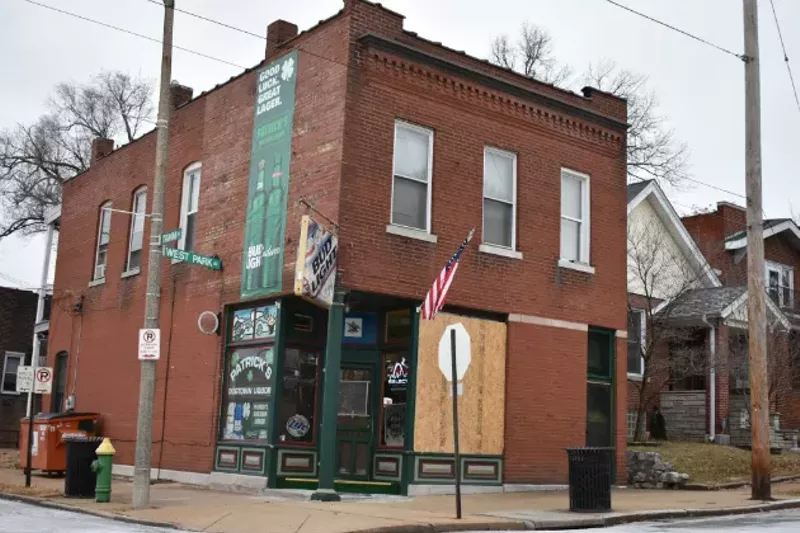 PHOTO BY DOYLE MURPHY
Patrick's Dogtown Liquor reopened with a boarded-up window after thieves shot out the glass.
The shop reopened the same day. The front window is now boarded up, but Wrzesinski was back behind the counter Friday morning. He's the fourth owner of the neighborhood market, a fixture in Dogtown since 1957.
It's not clear how the burglars got inside, but Wrzesinski is confident police will find them.
In their haste to escape, the men dropped everything they were trying to steal: liquor, lottery scratch-off tickets and three packs of Parliaments. Wrzesinski was also left with a couple of t-shirts from his window display, now bearing a pair of bullet holes.
"I sold one of them yesterday," he says.
We welcome tips and feedback. Email the author at [email protected] or follow on Twitter at @DoyleMurphy.