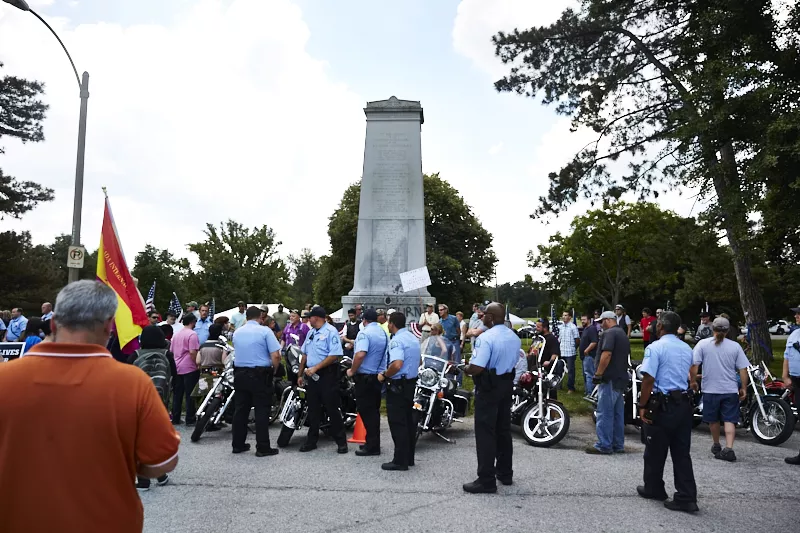 THEO WELLING
St. Louis' Confederate monument was removed this summer in a process that state Rep. Warren Love (R-Osceola) would like to render illegal.
A Missouri state representative
who'd previously called for vandals defacing a Confederate monument to be "hung from a tall tree"
has now introduced a bill to protect such memorials from removal.
But Representative Warren Love (R-Osceola) says it's not about mourning the Confederacy. Where would you ever get that idea? "I'm just trying to give a process," he
told the St. Louis Post-Dispatch
.
"I would not be in favor of going around the state and rounding up monuments placed by people who were honored because of serving their state," he said. "I'm not trying to carve anything that can't be done."
Sure.
Love's proposed legislation, House Bill 1427, would prohibit any government agency from "relocating, renaming, rededicating, erecting, modifying, or removing any state historic military monument, memorial, or marker" without holding a public hearing and getting approval from the Missouri Advisory Council on Historic Preservation. He notes that it would apply to everything from monuments memorializing the Iraq War to, yeah, that the newly controversial edifices honoring the glorious lost cause that enslaved blacks and nearly tore Missouri asunder.
Warren Love (R-Missourah).
But lest anyone worry about his motives, Love has previously insisted to the
Post-Dispatch
that
some of his best friends are black
. "Listen, I've got good friends in the Capitol," Love told the daily this summer. "Me and Tommie Pierson (a black St. Louis County Democrat) was co-captains of a softball team. And you can ask anybody in that Capitol. I probably have a better relationship with the minorities than anybody up there at the Legislature.
"I play softball with them, I'm good friends with them. I, you know, I sit on the same side of the aisle with them and they're on my softball team," Love said.
Softball team or no softball team, the
Missouri Legislative Black Caucus called for Love's removal over the lynching comments
. He's supposed to face the ethics committee over those comments this afternoon.
Editor's note: A previous version of this story contained an incorrect reference to Love's title. He's a state representative, not a senator. Also, the hearing for Love's comments has been moved to this afternoon, not this morning. We regret the errors.

We welcome tips and feedback. Email the author at sarah.fenske@riverfronttimes.com