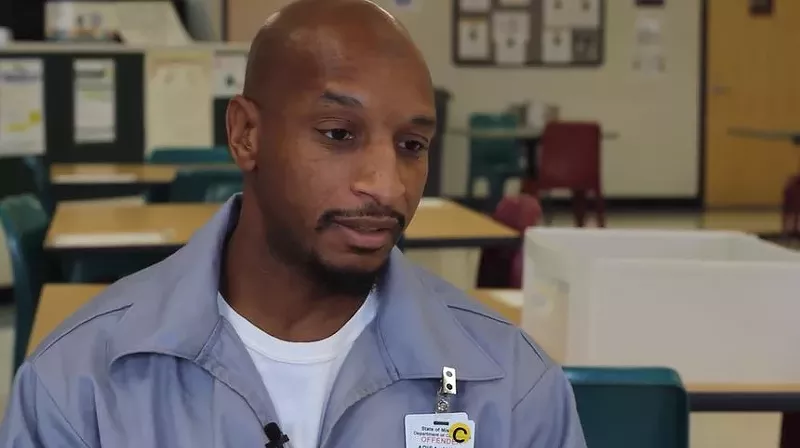 According to a key witness, the masked gunman who murdered professional boxer Ray "Lethal" Lathon in a downtown St. Louis recreation center in 2000 can't be the man who was ultimately convicted of the crime.
That's because the witness, Michael Stuart, insists that he lied to police when he implicated Ahmad Adisa for the nearly two-decade-old murder. Adisa, convicted at a jury trial, is currently serving a life sentence without parole.
"The lies I told pretty much ruined his life," Stuart said in a recent interview.
Stuart's admission appears in
a 20-minute documentary
released last month by the Medill Justice Project, an investigative journalism center run by reporters and journalism students enrolled at Northwestern University.
In the interview, Stuart explained that he fabricated Adisa's role because he had been "pissed off" that Adisa disapproved of his involvement in the drug trade. (Stuart is currently serving a prison sentence for felony drug distribution. The documentary interview was conducted from a prison visitation room.)
Adisa "knew the things that I was involved in," Stuart said in the interview. "He would always lecture me that a good Muslim is not involved in that kind of stuff, and maybe I was threatened because he knew the other side of me, and maybe I was afraid that he would go to other Muslims that I associated with."
While this is the first time Stuart's claims about Adisa have been aired on film, Stuart's recantation is not new. Adisa and his lawyers have spent years trying to convince state and federal appellate courts that prosecutors knew during the trial that Stuart's testimony was false, but used it anyway.
In the beginning, Stuart must have seemed like a detective's dream come true. He called 911 just hours after the killing to tip police to Adisa. In his initial statements to investigators, Stuart claimed that he'd been riding in the truck driven by Adisa on the night of December 12, 2000, that he'd watched Adisa change into coveralls and grab a pistol out of a bag before walking into the recreation center, and that Adisa emerged five or ten minutes later and told Stuart he "popped the guy."
Other witnesses saw the shooter at the recreation center, and one later picked Adisa in a lineup. His description of the killer's outfit, too, matched Adisa's. But no forensic evidence directly linked Adisa to the shooting.
And after making his initial statement to the police, Stuart stuck to his story at trial — but he also showed he was willing to bend the truth about his involvement in the case, at least in certain circumstances. According to a trial transcript, Stuart testified that when Adisa's friends and family confronted him about snitching, he lied and told them he wasn't cooperating with the police.
That inconsistency didn't sway the jury, and they convicted the 28-year-old Adisa on a charge of first-degree murder.
Stuart didn't formally recant his damning trial testimony until 2004. During a deposition, he alleged his statements implicating Adisa had been the product of police pressure.
"I was more or less forced into testifying in the way that I did," Stuart told Adisa's attorney. "Me and Ahmad, we never went to the recreation center that evening." He said he'd never heard Adisa talking about killing Lathon. He'd never seen a gun.
"So you're saying basically your entire testimony was a lie?" the attorney asked.
"Correct," Stuart said.
But at that point in the deposition, Stuart interjected with a question of his own, asking whether he needed a lawyer if he was going to admit to committing perjury at Adisa's trial. The deposition ended there. Circuit Court judge Joan Burger later denied Adisa's motion to provide Stuart immunity, since "the court has no jurisdiction to grant witness immunity."
In the ruling, Judge Burger noted that Adisa had failed to present "competent or credible evidence that the State knowingly used false evidence by putting Mr. Stuart on the witness stand."
"Even assuming that Mr. Stuart was given immunity by the state," Burger continued, "which statement given under oath is more believable? The jury determined his credibility with their verdict."
The Medill interview with Stuart sheds limited light on his thought process behind framing Adisa. Stuart now claims that it was TV news coverage that gave him the idea to implicate his friend.
"I was surprised that he was convicted" at trial, Stuart told the filmmakers. "I thought it was pretty obvious that I was lying during my testimony because of the inconsistency of things that I was saying."
As for Adisa, the convicted the murderer doesn't presently have a lawyer, and it's not clear what his next step is. Stuart's on-the-record comments in the documentary are startling, but whether his claims could spark a new look at the case is a decision for a judge.
Regardless, Adisa maintains his innocence.
"The reality is that I got convicted for it," he said in the documentary. "But the other reality is that I didn't do it."
Editor's note: A previous version of this story stated that Stuart recanted during Adisa's trial. That detail was derived from a federal order denying Adisa's Writ of Habeas Corpus in 2007. However, after publication, the Medill Justice Project provided RFT with an excerpt of the trial transcript that showed Stuart did not recant at trial. Rather, at trial Stuart admitted to lying to Adisa's friends and family about cooperating with the police investigation. The story has been updated.

Follow Danny Wicentowski on Twitter at @D_Towski. E-mail the author at Danny.Wicentowski@RiverfrontTimes.com