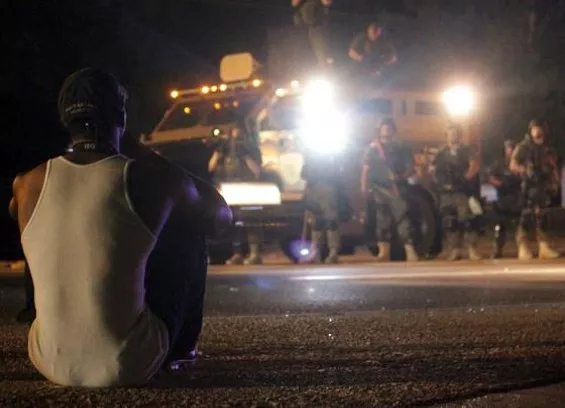 PHOTO BY DANNY WICENTOWSKI
St. Louis cops can still arrest protesters for obstructing them in 'any manner whatsoever.'
A state appellate court has ruled against two Ferguson protesters,
who challenged a St. Louis County ordinance that allows cops to lock up anyone who interferes "in any manner whatsoever"
with police work.
The catch-all ordinance has been used to arrest hundreds of protesters since Michael Brown was killed in 2014 by Ferguson police officer Darren Wilson.
The Rev. Melissa Bennett and audiologist Koach Baruch Frazier were both arrested in 2014 during a demonstration outside the Ferguson police station. The University City residents later sued the county, county Counselor Peter Krane and then-Attorney General Chris Koster, arguing the ordinance was unconstitutional.
Among their complaints was the idea that the language of the ordinance is too vague. It leaves it up to cops on the street to decide when a protester has obstructed or interfered with police work.
Attorneys Maggie Ellinger-Locke of the National Lawyers Guild and Brendan Roediger of the Saint Louis University Law Civil Litigation Clinic represented Bennett and Frazier.
During a hearing in October in front of the Eastern District of Missouri Court of Appeals, Ellinger-Locke suggested police could even interpret the law as it was written to mean lawyers shouting advice to arrested clients were in violation.
But the three-judge panel ruled in Tuesday's decision that the ordinance only covers physically intervening.
"We interpret the Ordinance as applying only to physical interferences and obstructions," Judge Kurt Odenwald wrote in the decision. "Therefore, police officers have guidance from the Ordinance that only physical conduct is prohibited, and the Ordinance does not contain an impermissible delegation to police officers for resolution based on a subjective basis."
Whether that's the way police officers will apply the law in the real world remains to be seen. Attorney Carl Becker, who represented the county, argued in October that the ordinance might extend to verbal interference, such as someone screaming in the ear of an officer attempting to give first aid.
We welcome tips and feedback. Email the author at doyle.murphy@riverfronttimes.com or follow on Twitter at @DoyleMurphy.