VIA SLMPD
Surveillance footage shows two young men outside a restaurant just before they allegedly broke in.
The restaurant break-ins that have plagued St. Louis continued this weekend, with burglaries in the Grove, Shaw and Fox Park.
But while the previous rash of incidents had seemingly few links beyond their targets, with
eateries hit in the Central West End, Lafayette Square, Midtown and near Tower Grove Park
, the most recent burglaries appear to be related. In fact, surveillance footage from break-ins in the Grove in the last two weeks suggests the same crew is behind at least three of them: a trio of black men, with a white SUV lingering outside serving as a possible getaway vehicle.
The burglars first showed up at Vincent Van Doughnut in the early morning hours of Saturday, December 9, police say. Owner Vincent Brian Marsden says his crew closed up shop at 3:35 a.m.; the thieves smashed through the glass door five minutes later. They helped themselves to the eatery's Square device and its GrubHub tablet, as well as a large bowl full of donut holes. (More on that in a minute.)
One week later, in the wee hours of the morning on Sunday, December 17, a group matching the same description showed up just around the corner at O'Shay's Pub in the Grove. At 5:15 a.m., police say, they shattered the front door with a brick. It's not clear if they got anything before leaving.
Thirty minutes later, however, a group matching the same description showed up a mile south, at Fiddlehead Fern Cafe in Shaw. Once again, the glass front door was broken out. The thieves took a cash register drawer, police say.
And there may be more.
A few hours before the break-ins at O'Shay's and Fiddlehead Fern Cafe, police say unknown suspects shattered the front door of the Purple Martin in Fox Park. However, co-owner Mark Hinson says the alarm seemed to scare them from the building — they left without taking anything. (It's not clear if the suspects in the Purple Martin case match the others; neither Hinson nor police had info as to their appearance.)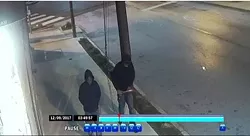 Hinson speculates the burglars were looking for money, but couldn't find it. "We know this business," he says ruefully. "We know never to keep money near the register."
By all accounts, the Purple Martin was lucky — Marsden says Vincent Van Doughnut also has a burglar alarm, but for some reason it failed to go off.
He says he's already changing a few practices in light of the burglary. But he can't help but think that the crew that robbed his shop cased the place: "They knew what they were looking for. These kids had been in here before."
And, yes, that apparently included those donut holes. Marsden notes that as the thieves took off running down the street, they dropped a treat or two — leaving a sugary trail for investigators to follow. "I guess now I can say my donuts are so good, people were breaking in for them," he says.
Police have released the surveillance images within this post. They ask anyone with knowledge of these crimes to call CrimeStoppers at 866-371-8477.
VIA SLMPD
Surveillance footage shows an SUV that police believe may be implicated in a series of restaurant break-ins.
Editor's note: A previous version of this story provided the wrong location for the Purple Martin. It's located in Fox Park, not Tower Grove East. We regret the error.

We welcome tips and feedback. Email the author at sarah.fenske@riverfronttimes.com