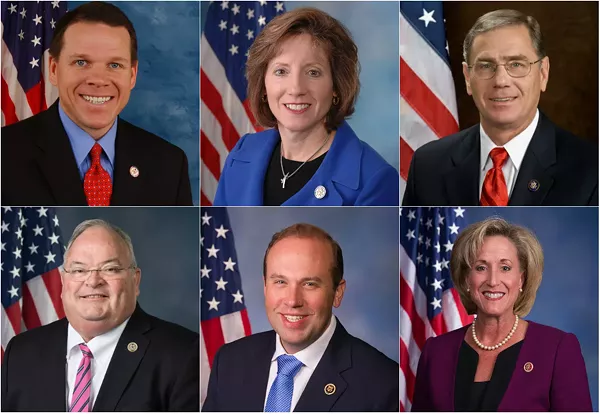 via U.S. House
Today is a great day if you're one of these people. (L to R: Sam Graves , Vicky Hartzler, Blaine Luetkemeyer, Billy Long, Jason Smith, Ann Wagner.)
Like a collection of sycophantic Santa Clauses all muscling down a chimney at once, Republicans in the U.S. House of Representatives today finally gave President Donald Trump the legislative gift he's been hoping for all season. And Missouri representatives were right there in the heart of the huddle.
One barely needs to check the list of votes once, let alone twice. In Missouri, the vote came down to a straight party line, with Ann Wagner, Billy Long, Blaine Luetkemeyer, Jason Smith, Sam Graves and Vicky Hartzler each casting their vote for a tax bill that, in addition to pumping up the nation's deficit and providing luxurious belly rubs to corporations, also unstitches Americans' current healthcare coverage and provides big breaks to the wealthy.
Great! Everything is great. Let's go to the tweets.
The vote in the Senate is expected to take place tonight or tomorrow morning — because, you know, a few hours should be plenty of time to work through the most sweeping changes to the nation's tax code in decades. It too is expected to pass with flying partisan colors. Happy Holidays, America!

Follow Danny Wicentowski on Twitter at @D_Towski. E-mail the author at [email protected]