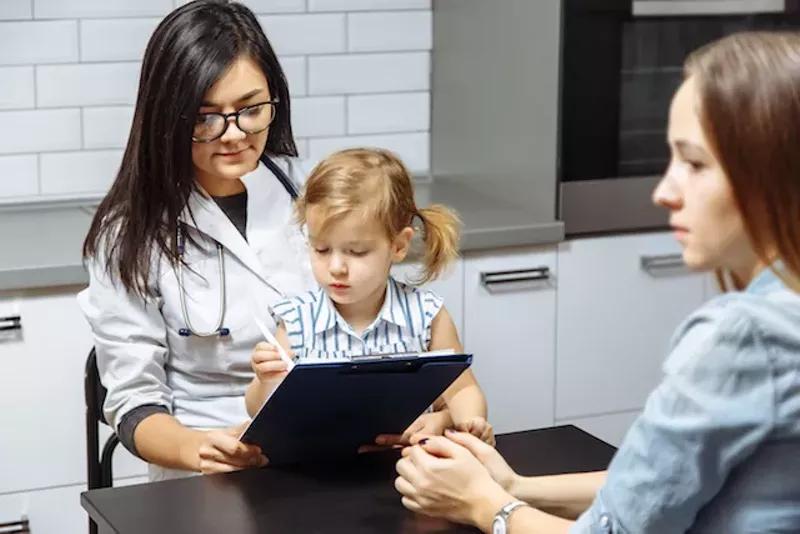 SHUTTERSTOCK/OZERO1504
A pediatrician examines a patient — something that will be less frequent with the loss of the Children's Health Insurance Program, or CHIP.
Last month, while lawmakers in Washington, D.C., were once again distracted trying to upend the Affordable Care Act, the deadline to re-authorize the Children's Health Insurance Program (CHIP) came and went. As a result approximately 9 million children nationwide will lose health insurance coverage within the next year, and in Missouri nearly 90,000 children, 30 percent of whom are adolescents, could lose coverage as early as January 2018. While federal lawmakers decide the fate of this critical program, the state must take action to ensure the health of its young people.
CHIP is a critical source of health care coverage for low- and middle-income families. While the ACA marketplace provides health insurance coverage for families earning 200 percent of the federal poverty level, the CHIP maximum income eligibility is 148 percent of the level, or $36,408 for a family of four. In states that expanded Medicaid, a family of four making up to $49,200 is eligible for coverage. Because Missouri did not expand Medicaid, families making over $30,750 are deemed illegible. That means that the loss of CHIP will affect more families in Missouri than in most states.
Between October 2013 and December 2014 I worked as an insurance navigator in St. Louis, helping people sign up for health insurance through Medicaid, CHIP and the ACA marketplace shortly after it was implemented. Even with CHIP as an option, I saw countless people turned away from insurance because they earned too much for Medicaid or CHIP but too little to afford the ACA marketplace plans. One young woman I met had lost her job at Barnes-Jewish Hospital. She had two kids and could not afford healthcare for either of them, simply because her tax forms said she earned a salary that disqualified her from both CHIP and ACA plans. Without CHIP, many more families will find themselves in similar situations.
And that's a shame, because most adolescent health issues are preventable — and investing in their care now could prevent far more costly problems down the road. The most common health problems for 10 to 25 year olds are substance abuse, obesity and sexually transmitted infections — all of which can be prevented through primary care, nutrition and health education. Yet in 2015 only 24.5 percent of uninsured and 45.7 percent of insured adolescents had completed a preventive medical visit in the past year.
Earlier this month the U.S. House of Representatives passed a bill that would fund CHIP by taking funding from other critical health programs, although it seems unlikely that Senate will pass that version. The House bill takes funding from the ACA Prevention Fund (which helps pay for immunizations and research into the prevention of diseases like diabetes and Alzheimer's disease), and makes Medicare income-dependent. Democrats voting on this bill faced a Catch-22 — either let funding for CHIP expire, or let the elderly pay more for health coverage, decrease funding for preventive care and expand tax credits for the middle class but not for low-income families.
As a navigator it was upsetting seeing people turned away for health insurance because they fell in the income gap between CHIP and the ACA. I still recall one young woman who made too much money to be covered by CHIP and too little for ACA plans – she just wanted to see a doctor for a physical for a new job. I don't know what happened to this woman, but because the physical was for a job she probably ended up paying out of pocket for it — normally $50-$200. However most adolescents end up forgoing healthcare because of these obstacles. I still think about her and others today as I think about how many more people will be in this position if the Affordable Care Act is repealed, and if CHIP does not receive funding.
And now the federal government has also announced they will cut the budget for insurance navigators by 92 percent, eliminating most of the people working my old job. That's leaves middle and low-income people with an even tougher time signing up for insurance.
We're not just sentencing adolescents to a lifetime of health issues; we're leaving them, and their families, without guidance as they seek to deal with them. As they grow and those problems become more severe, and more costly, we'll surely pay for both mistakes.
Juliet Ashall is a St. Louis native and is currently completing her Masters in Public Health at Columbia University. Reach her at ja3136@columbia.edu. The RFT welcomes concise essays on topics of local interest. Contact sarah.fenske@riverfronttimes.com if you've got something to say.