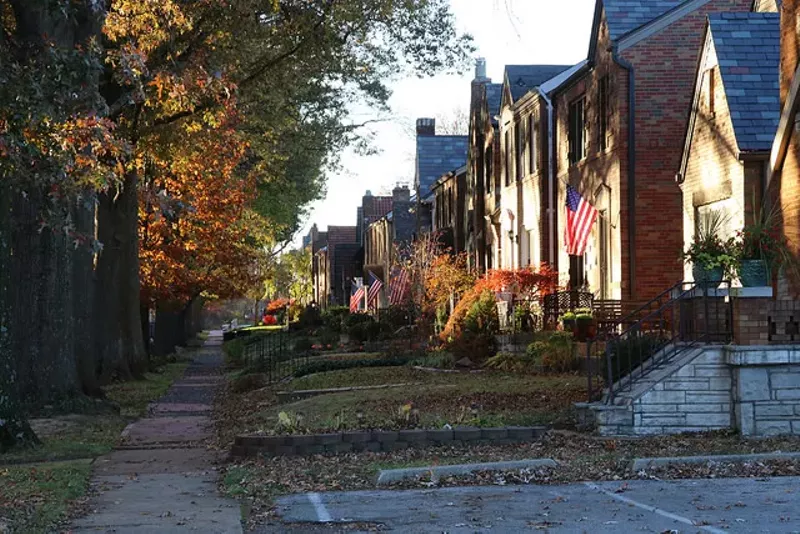 COURTESY OF FLICKR/PAUL SABLEMAN
St. Louis Hills said "yes" to a sales tax hike to give police raises — with 80 percent voting in favor.
The south city wards that include Shaw, Tower Grove South, Benton Park and Benton Park West said no to "Prop P" in big numbers — but they were virtually alone in their rejection of the tax hike.
Opponents had sought to position the sales tax increase, which will fund salary increases for police and fire, as a referendum on the St. Louis Metropolitan Police Department, which has been under fire for its growing number of police shootings and heavy-handed response to recent protests. Others had noted that such tax hikes disproportionately hurt poor residents.
But
last night's final, unofficial election results
show that Prop P found a plurality of voters in every single north city ward — the parts of St. Louis that are home to majority black and, often, impoverished voters. While the margins of victory in those wards weren't huge (an average of 53 percent), it was enough in combination with a tidal wave of support in deep south city to coast to victory.
With turnout at 21 percent, Prop P earned 59 percent approval. As returns came in throughout the night, it was never even close. Says campaign spokesman Ed Rhode, "We ran an aggressive city wide campaign so it was not a surprise to us that we won all north city wards."
Despite that support, though, the ease of victory was still largely thanks to the neighborhoods west of Kingshighway and south of I-44, where the half-cent sales tax hike drew huge margins.
The biggest pockets of support were from the city's 16th ward, repped by Alderman Tom Oldenburg, which saw 80.7 percent saying yes, and 12th ward, repped by Alderman Larry Arnowitz, which gave 75.9 percent approval. Oldenburg's ward includes affluent St. Louis Hills; Arnowitz's ward includes neighboring Boulevard Heights and Princeton Heights, as well as part of Carondelet.
The deepest opposition? It came from the famously progressive 15th ward, which includes Tower Grove East and South and is home to Alderwoman Megan Ellyia Green. Just 36 percent of voters there said yes to the increase.
Neighboring wards also say no, though in less dramatic numbers.
Alderwoman Cara Spencer's 20th ward, which includes part of Cherokee Street, offered just 44 percent approval, the same percentage as Shaw voters repped by Alderman Stephen Conway. Alderman Dan Guenther saw 47 percent say "yes"' in Benton Park and Benton Park West.
In general, beyond those pockets of opposition, the more northern the neighborhood, the closer the vote. Mayor Lyda Krewson's old ward in the Central West End, now represented by Heather Navarro, offered 53 percent approval. Alderwoman Christine Ingrassia's sixth ward, which is also home to Board President Lewis Reed and includes part of Lafayette Square, Compton Heights and Tower Grove East, was similar, with 52 percent approval.
Jeff Roorda, the controversial spokesman for the St. Louis Police Officers Association, issued a release last night suggesting the victory provides a mandate for the department, which has faced heavy criticism from even the city's own Board of Aldermen. (Among other indignities, a resolution to honor police stalled, while one honoring the suspected drug dealer killed by then-officer Jason Stockley inflamed many "Blues Lives Matter" supporters.)
"Proposition P was a referendum on the St. Louis City Police Department and the results were crystal clear," Roorda said. "Residents support the police!" Roorda also noted that the across-the-board pay hike will be the largest in city history.
We welcome tips and feedback. Email the author at sarah.fenske@riverfronttimes.com