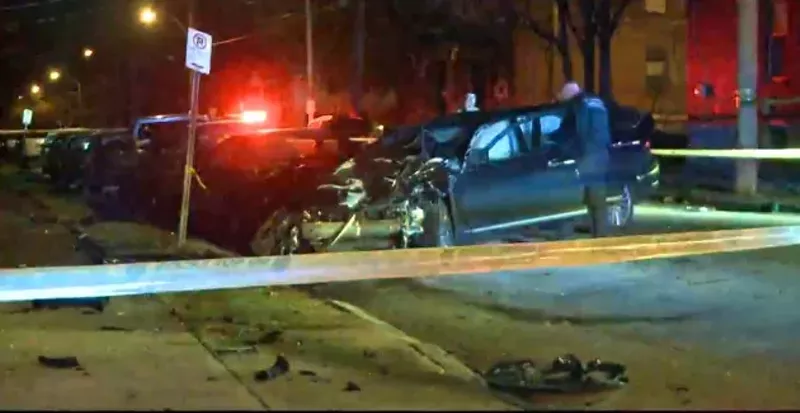 Image via KSDK
Carjackers crashed a stolen Lexus into a woman's parked car, injuring her, St. Louis County police say.
A pair of carjackers on the run from police crashed a stolen Lexus into a woman's parked car, injuring her as they tried to escape, authorities say.
The chaotic episode began shortly before 11 p.m. on Tuesday when St. Louis County police officers spotted the stolen sedan in Jennings and identified it as one that had been taken on Monday in Clayton. Police believe the car had been used in at least one other carjacking since it was stolen.
As the officers moved in to try to stop the Lexus, the driver took off, police say. For the next ten minutes, officers chased the men, who raced through north city at speeds reaching 110 miles per hour. The carjackers eventually slammed into the woman's car near the corner of Warne Avenue and Penrose, just north of Fairground Park, authorities say.
Another car was also hit during the collision, KSDK reported.
The men bolted out of the Lexus and ran away on foot. Officers quickly took 28-year-old Lamar Bowens into custody, but a second man escaped. Police described him as a black man, eighteen to twenty years old with a "noticeable limp."
Image via St. Louis County Police
Lamar Bowens, 28, was arrested after crashing a Lexus stolen during a Clayton carjacking, police say.
Bowens was the driver, police say. He told officers he had left his gun in his car and should have killed them, according to a probable cause statement filed by police. Two guns, including a 9mm semi-automatic pistol on the driver's side floorboard, were recovered from the Lexus.
The St. Louis County Prosecuting Attorney has issued multiple felony charges against him, including assault, unlawful possession of a firearm, tampering with a motor vehicle and resisting arrest.
The woman was taken to the hospital. Police said emergency responders had to cut her out of her mangled car and place her on a breathing machine, but her injuries were not considered life-threatening.
Police are now investigating whether the stolen car was used during a carjacking on Monday evening. A 53-year-old woman at the edge of Jennings told police two men exited a black Lexus stole her 2011 Lincoln MKS sedan at gunpoint while a third man stayed in the car.
The thieves drove off in both vehicles. The Lincoln is still missing. It's white and has a "Clergy" sticker on the license plate.
Police ask anyone with information about the incidents to call them at 636-529-8210 or CrimeStoppers at 866-371-8477(TIPS.)
Editor's note: We updated this post at 4:20 p.m. to include new information about the suspect and the extent of the women's injuries.

We welcome tips and feedback. email the author at [email protected] or follow on Twitter at @DoyleMurphy.