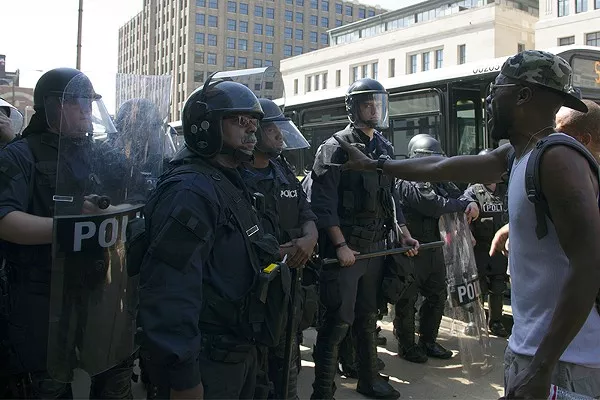 DANNY WICENTOWSKI
St. Louis Police will see a sizable pay raise with the passage of Prop P.
St. Louis city voters said yes to Prop P last night — following their county counterparts in granting a big pay raise to their police force.
The proposition cruised to victory with 59.7 percent of voting saying yes, according to final but unofficial results released by the city's board of election commissioners just before 10 p.m.
A total of 21 percent of city voters turned out.
See also: Prop P Drew Big Margins in Deep South City — and Solid Support in the North
The half-cent sales tax increase will provide about $19 million in additional revenue each year, $13 million of which will go to the police. Approval of the measure will give city cops a raise worth roughly $6,000 annually, plus another $4,000 in annual benefits. Firefighter salaries, which are tied to police salaries in the city, will also rise.
The police union said in a statement that the across-the-board increase will be the largest raise in the history of the department.
"Proposition P was a referendum on the St. Louis City Police Department and the results were crystal clear," the union wrote. "Residents support the police!"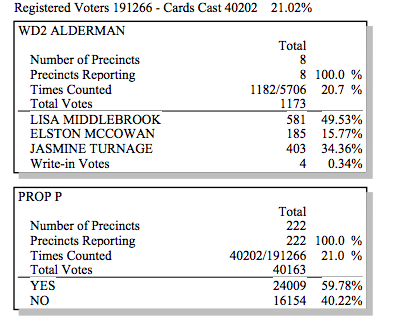 The proposition's approval is a big victory for Mayor Lyda Krewson, who put herself forward as the face of the measure and
tirelessly made the case
that even if voters were critical of police performance, this was a way to get better.
She also warned that rejecting the tax hike could have big repercussions.
"How many officers will we be short next year at this time if we vote no on Prop P?" she asked. "It's not a way to get a safer city."
A broad coalition of
progressive groups had opposed the measure
, with City Treasurer Tishaura Jones dipping into her campaign committee funds to pay for some ads against it. State Rep. Bruce Franks (D-St. Louis) and Alderwoman Megan Ellyia Green also campaigned hard against it.
Exhibit A in their argument was the police response to the protests that have taken place in the city for more than a month following the acquittal of former officer Jason Stockley. But those who took a more positive view of the department were able to get their voters to turn out, and ultimately, the election wasn't even close.
Campaign finance reports showed that, as of press time, proponents
had raised $375,000 in support of the measure
, with canvassers, a TV ad and yard signs all urging a yes vote. By contrast, the opponents said they'd be spending less than $4,000.
It wasn't an easy victory for Krewson: Voters rejected a tax hike last year aimed at bringing a Major League Soccer team to town, and the police response to protests left many city voters in a sour mood. At a sometimes raucous forum October 12, community members
pushed Krewson to fire — or at least demote — the acting police chief
. She refused.
In a statement, the mayor said the measure would help not just the public safety department, but other city functions as well. "I recognize that we can't arrest our way to a safer city, and I'm thrilled that voters agree," she said. "Passing Prop P means we can make significant investments on the prevention side, with funding for afterschool and summer job programs, recreation, social and mental health services and also demolishing vacant buildings."
The mayor had said there was no "plan b" if Prop P failed. As it turns out, she won't need one.

We welcome tips and feedback. Email the author at sarah.fenske@riverfronttimes.com