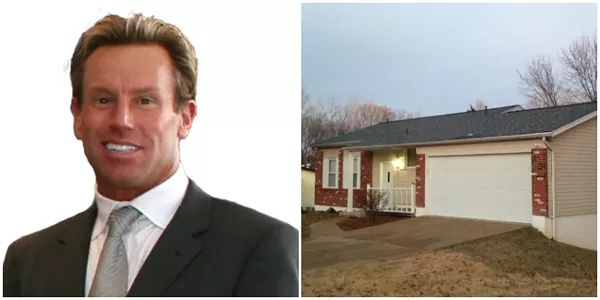 BAM BRANDS/DOYLE MURPHY
Todd Beckman is accused of beating a man in this Pacific house over a drug debt.
Todd Beckman was known for his line of tanning salons and strip mall massage parlors, but it was his side business, importing crates of marijuana, that ultimately got him into trouble, authorities say.
The St. Louis entrepreneur,
who is facing kidnapping and gun charges
, had the weed shipped from California to his office in Fenton, a young associate revealed in court today.
The facts of the operation and its connection to the brutal 2016 kidnapping of a Maplewood man were detailed for the first time today during a hearing to accept the guilty plea of one of Beckman's three main co-defendants, 27-year-old Caleb Laubinger.
U.S. District Judge Audrey Fleissig spent a large portion of the hearing tracing the quartet's misdeeds as laid out in a fifteen-page plea agreement filed by Assistant U.S. Attorney John Davis.
She periodically paused to ask Laubinger if the allegations were true. Each time, he replied, "Yes, ma'am."
In exchange for Laubinger's plea to conspiracy to commit kidnapping, prosecutors have agreed to dismiss a gun charge and recommend twenty years in prison, as opposed to the maximum of life.
Laubinger played the role of strongman in the kidnapping, he admitted. His brother, 25-year-old Blake Laubinger, was a marijuana dealer and a key player in Beckman's operation, authorities say.
Beckman, who turned 53 last month in jail, received shipments of 50 to 80 pounds of marijuana at a time, according to the allegations. His longtime friend and business partner Kerry Roades would break open the crates in the back of the headquarters for BAM Brands, a suite of vanity and fitness companies that include the TanCo and MassageLuXe chains. Roades would then remove the weed from its airtight, foam packaging, authorities say.
Blake Laubinger, who is scheduled to plead guilty on Friday, was allegedly in charge of storing the marijuana at his home in Pacific and ultimately selling it for as much as $3,000 per pound.
That task became complicated in late October 2016 when someone broke into the house and stole 24 pounds of marijuana and $15,000, prosecutors say.
Blake Laubinger immediately suspected one of his partners in the weed business, a 24-year-old Maplewood man. The two had met in 2010 at St. Louis County Community College. Prosecutors say they were dealing independently and decided to team up.
Suspecting he had been double-crossed, Blake Laubinger told Beckman about the October 2016 burglary, and they made plans to "get" the Maplewood man, authorities say.
The following weeks were a game of cat-and-mouse. Caleb Laubinger admits that he and his brother tracked their target across the state with the support of Beckman and Roades. They narrowly missed him in early November 2016, surprising him at a Steak 'n Shake in Sunset Hills before he slipped away during the ensuing high-speed car chase.
Following a tip from a friend, they later slipped into the man's house in Maplewood on November 21, 2016, and ambushed him inside, authorities say. Caleb Laubinger admits he nearly choked the man unconscious before they tied his hands, loaded him in a truck and drove him to the house in Pacific.
Beckman and Roades arrived after the brothers had secured the man to a beam in the home's basement, authorities say. Beckman allegedly brought a razor and shaved their hostage's head. He also pistol whipped the man and threatened to kill him, seal his body in shrink wrap and ship it to California, authorities say.
All this is true, Caleb Laubinger contends. The abuse lasted into the next day when they hauled the man to a secluded stretch of land owned by Beckman in Fenton. The man spent his second night in captivity locked inside a storage container on the property.
Beckman finally agreed to free their captive on the third day after collecting a $27,000 ransom payment from the man's parents, prosecutors say.
The crew was arrested in early December. A fifth defendant, who prosecutors believe played only a minor role,
pleaded guilty in May
. Beckman is scheduled to plead tomorrow afternoon and Blake Laubinger's plea is set for Friday.
We welcome tips and feedback. Email the author at doyle.murphy@riverfronttimes.com or follow on Twitter at @DoyleMurphy.