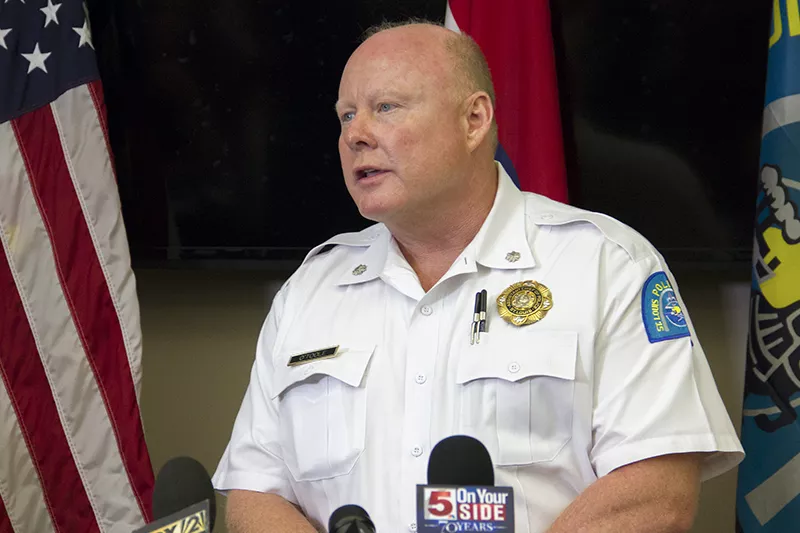 DANNY WICENTOWSKI
Interim St. Louis Police Chief Lawrence O'Toole.
On Thursday, interim St. Louis Police Chief Lawrence O'Toole appeared on
The Allman Report
to discuss the November 7 vote on Prop P and, later in the segment, to drop a remarkable accusation: The recent protests against Jason Stockley's acquittal, said the chief, resulted in an "influx of crime."
The comment came while O'Toole's discussed his department's controversial response tactics to protesters: (Bold added for emphasis.)
The point is, besides the protests, we have a city to patrol. We have violent crime in the city, and these protests, they took a lot of our manpower away from what we really need to concentrate on, which was the crime in the city. We were unable to do that for several weeks. We're back now. During that time we saw an influx in crime because officers were not out there doing what we normally do.
To be clear, O'Toole wasn't making a Roordian "War on Cops" argument or claiming that officers are limiting their efforts out of fear that people might catch them on video or criticize them. In fact, he told Allman that he was glad to see protesters get the opportunity to exercise their constitutional rights. The chief even suggested that St. Louisans "really needs to listen to what [protesters'] message is."
But still: "an influx in crime"? The numbers don't seem to add up.
According to the department's
publicly available crime reports
, September 2017 — which included the most heavily policed protests following Stockley's September 15 acquittal — appears to have
fewer
reports of crime than expected. In fact, violent crime in September appears to be at its lowest reported level in three years.
First, for overall crime reports: September 2017 notched 3,668 total reported crimes. That's a roughly 14 percent drop from September 2016's 4,283, which, in turn, was fairly close to 2015's 4,377 crimes. So. No influx there.
Still. Perhaps O'Toole was solely referencing violent crime. Even then, the numbers don't scream "influx." If we consider "violent crime" the combined total of homicide, rape, burglary, robbery, aggravated assault, arson and weapon offenses, there's still no spike. Based on that definition, there were 843 violent crimes reported in September 2017 — 23 fewer than September 2016 and 138 fewer than September 2015.
What about just murder? The past three Septembers have ended with similar homicide numbers as well. Last month recorded fifteen. There were fourteen homicides in 2016, and seventeen in 2015.
Granted, crime data is notoriously fickle, and it's not difficult to imagine the various ways simple statistics don't tell the full story of a 1,100-strong police department trying to maintain regular patrols while tracking protests. Perhaps O'Toole was thinking of crimes that didn't get solved — or maybe he believes a particular ward or neighborhood was noticeably short-staffed during the protests. We reached out to the department for clarification this morning, but have yet to get a response. (We'll update this post if we hear back.)
Aside than O'Toole's claim about increased crime, the chief seemed generally pleased about the department's strategy for confronting protests, which have been regular occurrences in the city and its suburbs for
seven weeks now
. The department's strategy "facilitated" peaceful disruptions, he said. He also claimed that officers only used force to stop destruction of property and assaults against officers. (The ACLU, which has
sued the city, saying
chemical munitions such as tear gas and pepper spray have been used indiscriminately
, would certainly beg to differ.)
O'Toole also proudly pointed out that, unlike protests in Ferguson and Baltimore several years ago, the recent unrest in St. Louis didn't include arson or looting.
"We had a plan; the city didn't burn," O'Toole told Allman. "You can look at Baltimore and other cities when we've had these things, and we did quite well. And the complaints that have come, obviously they're concerning, but I'm not aware of any protester who went to the hospital."
The chief added: "As far as the complaints are concerned, everyone wants the truth, and there's a process, there's an investigation that's being conducted. We'll look at all that."

Follow Danny Wicentowski on Twitter at @D_Towski. E-mail the author at [email protected]