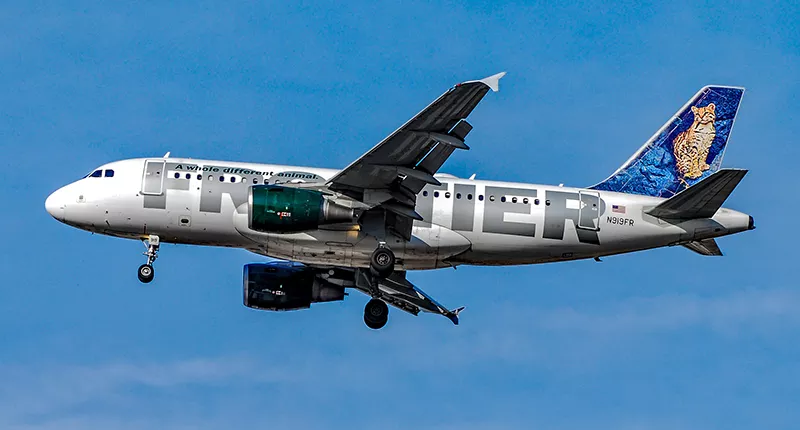 During a June 10 Frontier Airlines flight from St. Louis to Denver, an unidentified male passenger subjected a woman sitting next to him to a drunken tirade — even shouting repeatedly that he was "playing my fucking white card" after crew members allegedly refused to continue serving him alcohol.
The incident, captured partially on video, did not end well for the male passenger. Incident reports obtained from the Denver International Airport show that multiple police officers were dispatched to subdue the man after landing.
A second video, shot by another passenger, apparently shows the man being carted off on a gurney after he was choked into submission.
But four months later, it's still unclear whether the male passenger was ever criminally charged. And the woman trapped next to him, a black passenger named Shemekia Cannon, says she's been offered only a $250 flight voucher for her ordeal.
Cannon still doesn't even know the man's name.
"Stuff like this gets swept under the rug," Cannon says. A letter from the airline to her lawyer shows she was offered an apology and a $250 travel voucher, though the company defended its employees' response to the incident as "appropriate."
Cannon, however, counters that the Frontier flight staff served the man alcohol despite him being visibly drunk from the moment he got on the plane. She claims that her requests to be moved to a different seat were ignored, leaving her to endure the man's behavior until the situation degraded — forcing her to experience a grown man's racist tantrum from just inches away in a window seat.
via
Shemekia Cannon says she'll never fly Frontier Airlines again.
"Had I not had a recording," she says, "this would be a 'he said, she said' thing."
Cannon, an Arkansas native, tells
RFT
that she moved with her family to St. Louis at a young age, though she eventually relocated to Phoenix in 2010. In June, the 38-year-old returned to St. Louis to attend a friend's wedding.
While waiting to board the first leg of her flight in St. Louis — the journey included a connecting flight in Denver — Cannon says she sat at the bar in a Chili's and observed a man in a suit flirting and drinking with a red-headed woman.
To Cannon's dismay, it turned out the couple was traveling to Denver as well.
"I was in one of the last sections to get boarded," Cannon says, "and I got to my aisle and there they are. And I'm thinking 'Oh hell. I just want to get home and here these drunk people are.'"
Cannon was seated against a window, with the drunk man in the middle and his red-headed companion in the aisle-seat. Cannon says she spoke with a flight attendant about moving to a new seat, but she was told that she'd have wait until the rest of the plane filled up before the crew could attempt to accommodate her request. But for some reason, the flight attendant didn't make good on that promise. The plane took off.
Cannon resigned herself to her situation and tried to get some sleep. However, she claims she overheard the man flirting even more aggressively with the redhead. A flight attendant came by and served the couple drinks. Infused with more booze, Cannon says his flirting escalated to include descriptions of his penis size and what he wanted to do with the woman in the bathroom. Cannon also claims he started rubbing his pants leg and groin area.
Once again, Cannon says she alerted a flight attendant.
"When he described his penis size, I couldn't take it no more," she says. "I told them what he'd said."
At that point, continues Cannon, a flight attendant told the man that he couldn't order any more alcohol. Instead of being suitably chastised, he turned to his companion and remarked, within earshot of Cannon, "Don't worry, I have white privilege, I have a white card."
Cannon says she was flabbergasted.
"I went from zero to a million. I looked at him and I said, 'You're a racist son of a bitch.' I stood up and flagged for every flight attendant."
That moment also prompted Cannon to pull out her phone and started filming. The video doesn't show the man's face, but it does capture him shouting, "I'm playing my white card" while he repeats and mocks Cannon's requests to be moved to a new seat. The video also shows the hand of a passenger reaching from the row behind them and grasping the drunk man's shoulder in an attempt to hold him back.
Cannon says that the crew members asked her to cross over the disruptive man to the aisle, but he was "bucking at me like he wanted to hit me." Earlier that same day, Cannon claims she was briefly treated at a hospital for a cyst on an ovary, and so she was scared he would strike her in the side.
"I'm thinking, 'If you elbow me in my side right now it could kill me,'" she says. She remembers thinking, "'Why aren't you guys pulling him out of this area and away from me?' I'm pleading and begging, please get him away from me."
After Cannon was finally able to move to a different seat, she overheard the man raging and threatening the flight attendants. His behavior prompted a call to police, and once on the ground, Denver cops entered the plane to subdue the man. While Cannon says she didn't directly witness the confrontation, she claims a detective later questioned her about the man threatening the officers and crew.
"He kept screaming, 'I'm a business owner, I'm a business owner,'" she recalls. "He wanted everybody to know is that he is a business man and he had white privilege and a white card. He was flailing and fighting everybody."
Along with the Denver Police Department, Cannon says she was contacted by an FBI agent who questioned her about the man's threats.
Inside the Denver airport, Cannon says that she was approached by a woman waiting in the same terminal, and she told Cannon that she'd filmed the man being taken away on a gurney. The video is only eight seconds long, but someone can be heard saying, "They strangled him," as the gurney passes by.
From there, however, information about the case seemed to evaporate into thin air. Cannon's St. Louis-based attorney, Sam Henderson, says he has been unsuccessful in getting answers from the Denver police, the FBI and Frontier.
A public information officer with the Denver Police Department told the
RFT
that because the incident was initiated in the air, "It's an FBI case." Reached Friday via email, a spokesman with the U.S. Attorney's Office said that the FBI agent with knowledge of the case is currently on vacation.
Henderson was able to obtain incident reports from the Denver airport, and while the transport logs show calls to EMS and police officers for a "physical disturbance," the logs don't disclose the man's name or whether he was formally charged.
The lack of details baffles Cannon, particularly after she spoke to both a police detective and FBI agent about the case. "Who
is
this guy?" she says.
In a way, she adds, the months of silence have proven the drunk's racist words were correct.
"He
does
have this invisible white card," she says. "They're protecting this man to the point where we don't even know his name. He's alive, living his life, thinking this is all over. That's how I know that card exists."
In a letter to Cannon and her lawyer dated July 19, a Frontier "Customer Relations Advocate" apologized for the incident, but noted: "We feel our flight crews' actions were appropriate for the situation and regret any discomfort caused to Ms. Cannon. We do hope this isolated incident does not prevent her from traveling with us in the future and have provided a $250 travel voucher."
Cannon, though, says she'll never fly Frontier again. Upon landing in Phoenix later that night, she claims, she had to be rushed to the hospital to treat additional pain related to her cyst, and during her hospitalization she says she suffered a nervous breakdown. She claims the incident caused her to miss months of work for mental health reasons, and she only recently returned to her job.
We reached out to Frontier with questions about the fate of the harasser and whether the airline had investigated the incident. We also asked about the company's policies for serving alcohol to drunk passengers.
In response, a spokesman emailed us a two-sentence statement on Saturday:
"We take allegations of misconduct very seriously and have worked internally to investigate Ms. Cannon's concerns. The comfort, safety and security of our crew and passengers is our first priority at all times."

Follow Danny Wicentowski on Twitter at @D_Towski. E-mail the author at Danny.Wicentowski@RiverfrontTimes.com