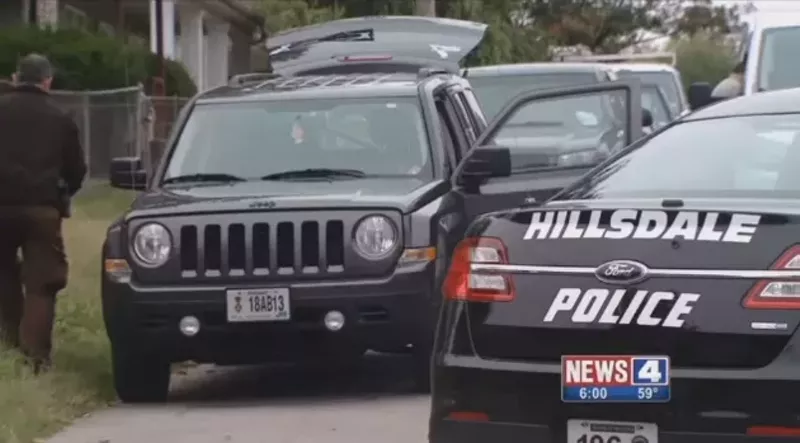 IMAGE VIA KMOV
A Hillsdale cop's Jeep, shown in a screen shot, was stolen along with guns, police say.
A 23-year-old accused of stealing a cache of weapons and equipment from Hillsdale police is now in custody and facing multiple felonies.
Peter Bud Ray worked his way around the police station parking lot in north St. Louis County early Thursday morning, according to authorities. He helped himself to two bulletproof vests and a police radio he found in a pair of patrol cars, court records say. He then allegedly climbed into a 2014 Jeep Patriot owned by Officer Brandon Bumbales and drove away.
Bumbales, who was out on patrol, had gone to the gun range for certification before his shift, leaving three of his personal firearms in his vehicle,
KMOV reported
. The weapons were later identified in court papers as a Sig Sauer .40 caliber, semi-automatic pistol; a Taurus .38 caliber semi-automatic pistol and an H&R shotgun.
Police found the Jeep a few hours later, but the guns were gone. It wasn't clear from court documents why police came to suspect Ray, but they found Bumbales' abandoned SUV near the man's home.
Police got a search warrant and raided his house on Saturday. They didn't have to go far: He lives in a bungalow about a three-minute walk from the police station.
Inside the house, officers found Ray and all the stolen items. Police say he eventually confessed.
He's facing charges of stealing a motor vehicle, stealing a firearm and stealing property worth at least $750. He was jailed on $50,000 bail.

We welcome tips and feedback. Email the author at doyle.murphy@riverfronttimes.com or follow on Twitter at @DoyleMurphy.