Screenshot from the St. Louis County PD Twitter account
After weeks of investigation by the super sleuths of the St. Louis County Police Department, lab results have come back today indicating that a bottle full of "unknown chemicals used to against police" (
their grammatically confusing words
) confiscated during a protest on September 17 did, indeed, merely contain apple cider vinegar.
There had been early clues that this was the case, clues pointed out by astute online investigators on the very evening police attempted to claim the mantle of victimhood.
For example, there was the fact that the bottle was plainly labeled:
Apple cider vinegar, which tastes good on salad and also is a decent topical cure for acne, is often used by protesters to mitigate the effects of tear gas. When soaked into a rag or bandana and worn over the nose and mouth, this mother of all vinegars can serve as a sort of filter, alleviating some of the pain associated with the chemical agent.
Throughout the protests that have taken place almost daily in St. Louis since former police officer Jason Stockley was found not guilty of murder, activists have been seen with bottles of the stuff, as well as milk of magnesia, which helps to neutralize the pain of pepper spray.
Commenters were quick to point this out to the officers: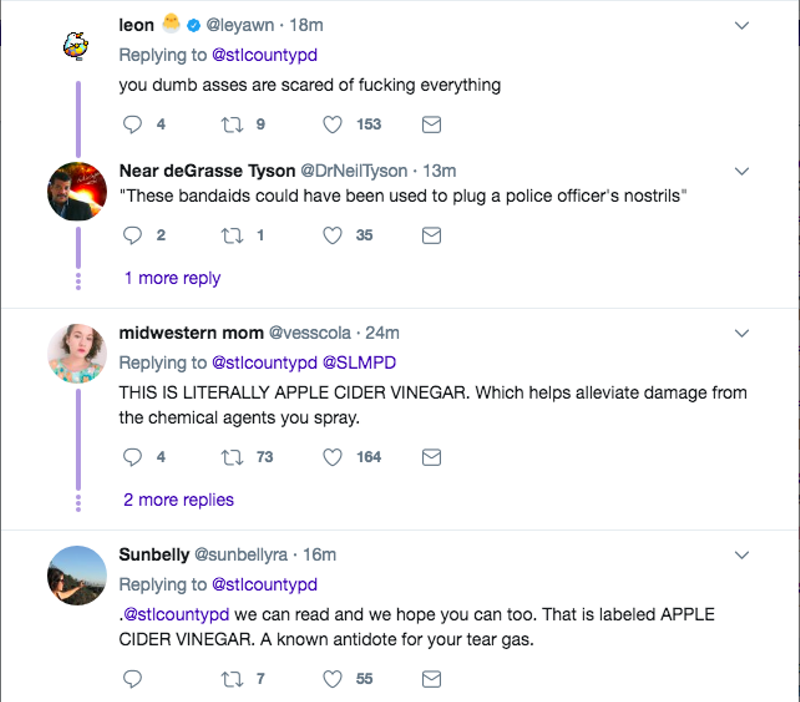 Today, more than two weeks later, the results are in. The bottle of apple cider vinegar was, indeed, filled with apple cider vinegar.
Commenters rushed to commend the department on its skilled detective work:
One commenter, pleased to see that this "unknown chemical" was proven to be what everyone said it was all along, now hopes to move the conversation on to another chemical weapon seen all too often at protests:
Well....
can we
?