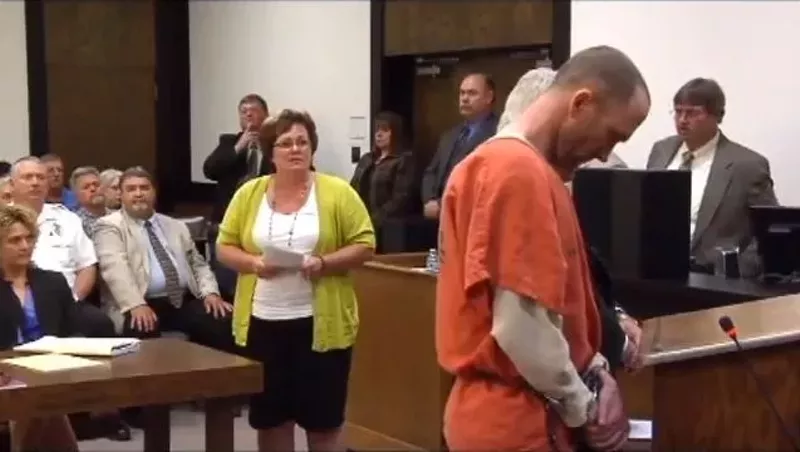 IMAGE VIA SCREENGRAB
Cheryl Brenneke, sister of Jacque Sue Waller, gives her statement at the sentencing hearing of James Clay Waller
A Jackson County man already convicted in Missouri for murder has pleaded guilty to a new federal charge for interstate domestic violence — and the combined prison sentences will likely ensure that James Clay Waller II stays behind bars for the rest of his life.
Waller's victim was his soon-to-be ex-wife,
Jacque Sue Waller
, a 39-year-old mother of triplets who had hoped to start a new, post-marriage life far away from a man who prosecutors would later call a "dangerous, sociopathic and narcissistic murderer."
First reported missing on June 1, 2011, Jacque's body was not discovered until 2013. In the intervening years, Waller was convicted for threatening his victim's sister and sentenced to five years in federal prison. In April 2012, however, Missouri charged him with first-degree murder and tampering with evidence.
After the state filed charges, Waller made a deal with prosecutors to lead them to the body. He took investigators to a grave he'd prepared on Devil's Island, a spot on the Illinois side of the Mississippi just northeast of Cape Girardeu. Waller confessed that on May 31, 2011, he'd met with his estranged wife and a divorce attorney. After the meeting, he'd strangled and beaten her to death inside his home in Jackson, and then transported the body to the Illinois gravesite.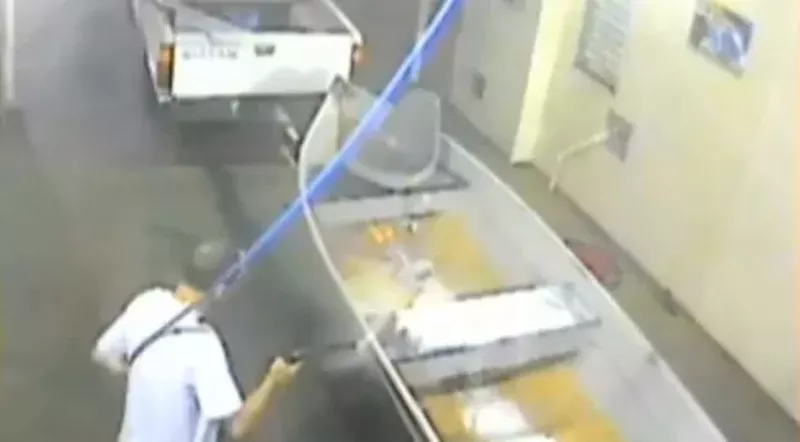 via KFVS 12
Surveillance video showed Waller washing out the boat he used to take his estranged wife's body across the Mississippi to Illinois.
In 2013, Waller pleaded guilty to second-degree murder and was sentenced to 20 years in prison. But federal prosecutors didn't let the case go.
In May 2016, Waller was indicted on a federal charge for interstate domestic violence, as he had crossed state lines — between Illinois to Missouri — in the process of committing a crime.
Waller's attorney argued at the time that the government's charge amounted to double jeopardy, and then-U.S. Attorney Richard Callahan conceded that it was "highly unusual" for the government to charge someone for a crime associated with a murder that had already resulted in a state-level conviction. But, he said, the details of the case "begged for such a prosecution."
"The circumstances that I refer to are the particular brutality of the murder," Callahan told the
St. Louis Post-Dispatch
, "along with the fact that he was able to extract an agreement with the prosecutors' office taking advantage of her family, who did want the body recovered and wanted some closure."
Waller's guilty plea, announced this afternoon, comes with a 35-year prison sentence. While in prison,
Waller penned a 182-page manuscript
titled, "'If You Take My Kids, I'll Kill You!': The Public Confession of Missouri's Most Notorious Wife Killers." (It's not clear why "killers" is plural; it may just be a typo.)
As part of his guilty plea, Waller is agreeing to forfeit any money connected to the manuscript or depiction of the murder.
If the judge accepts the plea agreement, Waller will receive a sentence of 420 months imprisonment. Sentencing has been set for January 16, 2018.

Follow Danny Wicentowski on Twitter at @D_Towski. E-mail the author at Danny.Wicentowski@RiverfrontTimes.com