PHOTO BY KELLY GLUECK
Protesters marched through St. Charles on Friday, September 23.
On Friday night, a wrought iron fence served as the only physical barrier separating several hundred protesters and the revelers of St. Charles' annual Oktoberfest, bringing clashing perspectives and surging blood alcohol counts to the latest demonstration following the
acquittal of former St. Louis police officer Jason Stockley
.
It's been one week since a judge found Stockley not guilty of first-degree murder in the 2011 killing of Anthony Lamar Smith. Demonstrations have swelled to thousands, at times
swallowing downtown streets
. In St. Charles, however, the demonstrators contended with jeers of "Blue Lives Matter!" and, frequently, "Go home!"
PHOTO BY KELLY GLUECK
Bar patrons keep an eye on the protest marching by.
The night was filled with
multiple near-altercations
instigated by staggering, slurring pedestrians. Yet during the roughly two-hour protest, police targeted only two men for arrest, both of whom appeared to be more than a little hammered.
"We're more worried about the drunks than anything else," a police commander on the scene told
RFT,
not long after
this guy
got taken down by three cops and had his head very literally shoved into the gutter. The man was not a protester.
PHOTO BY KELLY GLUECK
The man was heard calling the cops "pussies" and was eventually carried away.
Even before arriving in St. Charles around 8 p.m., protesters had already managed to shut down the St. Louis Outlet Mall in Hazelwood — with the mere
threat
of demonstration. Earlier on Friday, the mall had announced that it was closing three hours early, leaving the protesters to gather in a mostly empty stretch of parking lot at 6:30 p.m. But once assembled, organizers instructed them to get back into their cars and to form a long caravan. "Follow the car in front of you," they were told.
Hazard lights flashing, the long line of cars snaked its way to St. Charles. By 8:30, several hundred people had massed in front of Trailhead Brewing Company near Frontier Park, where the St. Charles Oktoberfest was already in full swing.
PHOTO BY KELLY GLUECK
Protesters observed six minutes in silence in the heart of St. Charles.
The protest carried down South Main Street, and at one point, a man driving a silver sedan tried to pass through the crowd. His car was halted by the alarmed protesters, and someone cracked the vehicle's windshield with a flag pole. The driver reversed, and he could be seen grasping the steering wheel with one hand and using the other to flip off the protesters shouting after him.
Over the next two hours, protesters blocked several of the quaint, brick-lined intersections along Main Street. At one point, they observed six minutes of silence, marking the roughly six years since then-officer Stockley shot Smith after a high speed chase through north city St. Louis.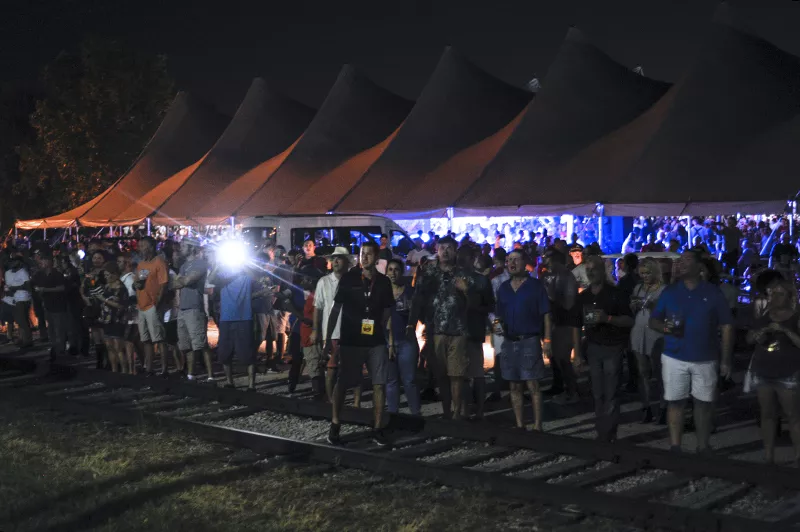 PHOTO BY KELLY GLUECK
Oktoberfest patrons watch the protest go by.
Eventually, the crowd wound its way toward Oktoberfest. Now, the cries of "Anthony Lamar Smith!" and "Whose streets? Our Streets!" were being echoed in sight of the festival tents and colorful vendor booths located on the other side of the fence.
"Go to hell!" yelled a man wearing a cowboy hat, leaning over the fence and pointing emphatically. Referencing Stockley's account that he saw Smith making a drug deal — a baggie of heroin was discovered in Smith's car — the cowboy-hat wearing Oktoberfest attendee added, "He was a heroin dealer and tried to kill a cop."
Dozens of Oktoberfest attendees followed the protest crowd as it marched south on Riverside Drive, though none attempted to cross the fence. One or two people stuck out their hands for high fives and fist bumps. Two men even embraced, a rare moment of gentility in a night in which slurred racial slurs could be heard from bar patrons on the street.
PHOTO BY KELLY GLUECK
Many revelers were hostile to the protest — but one man offered a hug.
Later that night, a man in a light blue polo shirt took off at a slow jog through the protest group and tried to knock cameras from the hands of two photographers, including frequent
RFT
contributor Theo Welling. (Welling's camera was undamaged.) Police officers immediately arrested the man.
The protest seemed to conclude uneventfully. Around 10 p.m., the protesters left Oktoberfest and its throngs behind, marching south on Main Street and finally meeting a line of cops in riot gear at the intersection with Ameristar Boulevard, which leads to the Ameristar Casino. About twenty minutes later, an organizer announced the demonstration was officially over. He encouraged those gathered to meet up today at noon at the St. Louis Galleria in Richmond Heights, the
site of a previous protest on September 20
.
However, according to
tweets
from livestreamer Heather De Mian and social media posts from organizers, police arrested one protester after most of the crowd had already left the area. The circumstances of the arrest are not clear, but it appears
the protester has been released
.
PHOTO BY DANNY WICENTOWSKI
Police apprehended this man after he swatted a journalist's camera.

Follow Danny Wicentowski on Twitter at @D_Towski. E-mail the author at Danny.Wicentowski@RiverfrontTimes.com