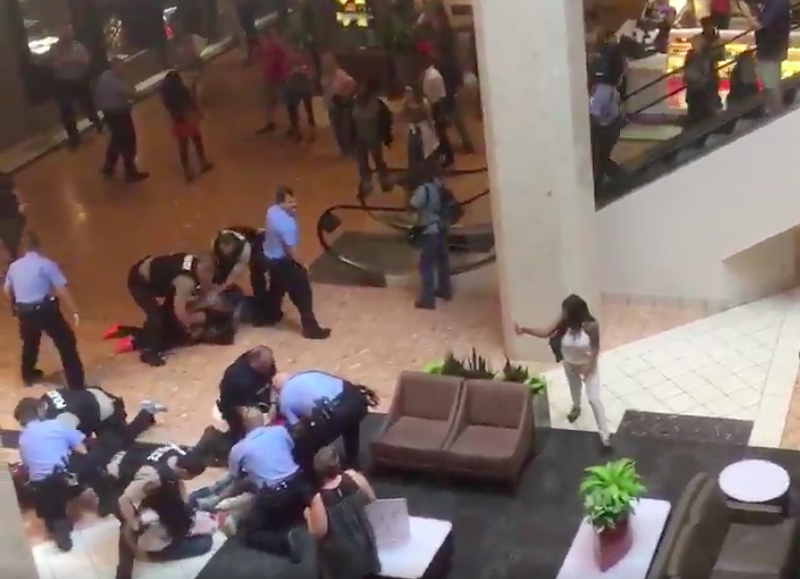 St. Louis County Police ordered protesters at the St. Louis Galleria to disperse this afternoon — and when the protesters didn't, the cops began making arrests. Twenty-two people were ultimately detained, county police say.
Before police moved in, the protesters shouted the now-familiar refrain of "no justice, no profit," which has featured prominently in
protests in and around malls and shopping centers
in the St. Louis area
in the last week
.
The protests are a reaction to the acquittal of former St. Louis cop Jason Stockley, who had been charged with first-degree murder.
But while last weekend's mall protests concluded without incident, police at the Galleria this afternoon quickly became confrontational. About an hour after the protest began, around 1:15 p.m., the St. Louis County Police Department says that officers gave orders to disperse. County officers and those from Richmond Heights, where the mall is located, then began arresting those who did not as stores locked down — sometimes with customers inside.
See also: Rev. Karla Frye, Elder at St. Peter AME, Facing Felony Charge After Galleria Arrest
The mall remained shut down as of 2 p.m.
Some protesters, however, dispute that they were given orders to disperse. "They did not give a dispersal order. They arrested, tackled older women, chased kids, threatened maced," one wrote in a public post on Facebook. "They chased anyone known in the movement around the parking lot."
Some of the chaotic scene was on video posted to Twitter by freelance journalist Brian Heffernan, who tweeted that he was on assignment for
St. Louis Magazine
:
Other videos captured the arrests as well, including a live feed from
citizen journalist Derk Brown
, which ended abruptly after capturing several protesters being knocked over and cuffed:
One more video of the arrests:
County police noted in a series of tweets that no one has the right to be in shopping mall after being asked to leave:
The county police said one officer had been transported to the hospital with a back injury and that two protesters had suffered "minor injuries."
Later, protesters convened at the Justice Center in Clayton, and then demonstrated in front of the Clayton Ritz-Carlton and the Target in Brentwood, as well as other stores in the same shopping center.
They briefly blocked Eager Road before police declared the protest had become an unlawful assembly. At that point, protesters largely complied.
Organizers soon announced the action was over, and the protest dispersed.
In the mean time, the ACLU of Missouri has sent a letter to St. Louis County, putting leaders on notice that footage of today's arrests have their attention.
"Today, we've seen images of what appears to be unnecessary use of force by police at the St. Louis Galleria, such as tackling people to the ground, and arresting them in ways that cause bodily injury," the organization wrote in a letter posted on its website.
The letter continued:
It's imperative you remind law enforcement:


To not use force against protesters absent a real and immediate threat of physical harm to others.

To not use chemical agents, such as pepper spray and tear gas, without following the proper protocols to ensure the protection of Constitutional rights.

Officers' nametags should be visible at all times for police accountability.

To wear their body cameras and have them turned on at all times.

People have a First Amendment right to take photos or film video of police activity in public spaces.


We hope that you will take responsibility to guarantee the rights of all people.

If you fail to do so, we will explore all legal options to make sure the Constitutional rights of the people are protected and respected.
Editor's note: We updated this post at 2:30 to include new details. We will continue to update as additional information comes in. Daniel Hill contributed to this story.
We welcome tips and feedback. Email the author at sarah.fenske@riverfronttimes.com