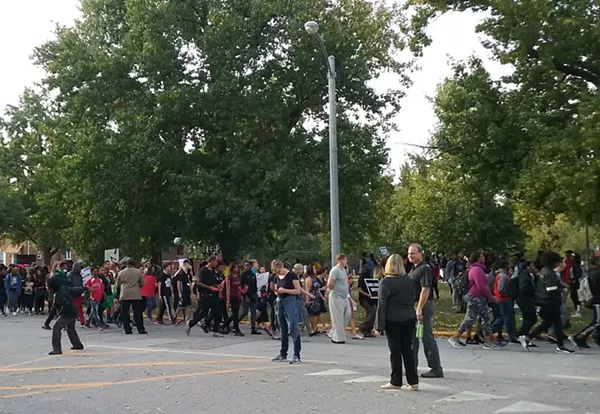 PAUL FRISWOLD
Students protest in front of University City High School.
A well-organized and vocal student protest took place in front of University City High School this morning before school started. Students reacting to
Friday's acquittal of St. Louis cop Jason Stockley
marched around the traffic circle at the intersection of Balson and Jackson avenues from 7:30 to 8:10 a.m., chanting "No Justice, No Peace" and "Black Lives Matter" and carrying signs while a thin line of faculty blocked traffic for them. Many wore black T-shirts with the slogan, "U City Woke."
The mood was upbeat, which only increased as teachers, neighbors with small kids holding homemade, child-sized placards, and morning dog walkers joined the march. University City Police watched from a respectful distance down Jackson and Balson, letting the students and faculty handle their business. Very few drivers had the wherewithal to disagree with a teacher making the "don't even think about face."
PAUL FRISWOLD
Teachers block the path of a driver who was confused by orders to make a U-turn.
Following the protest, faculty had planned to lead the students into the auditorium for a debriefing before releasing them for second period.
At roughly 8:10 a.m., an administrator on a microphone asked the students to leave the circle and file into the school. While she was thanking everybody for their participation and announcing that T-shirts would be available in the school bookstore in the next few days, the students double-timed it into a line three or four people across and marched down Balson, away from the school.
They were disciplined, they were well-organized, they were on their own and they were chanting louder than ever.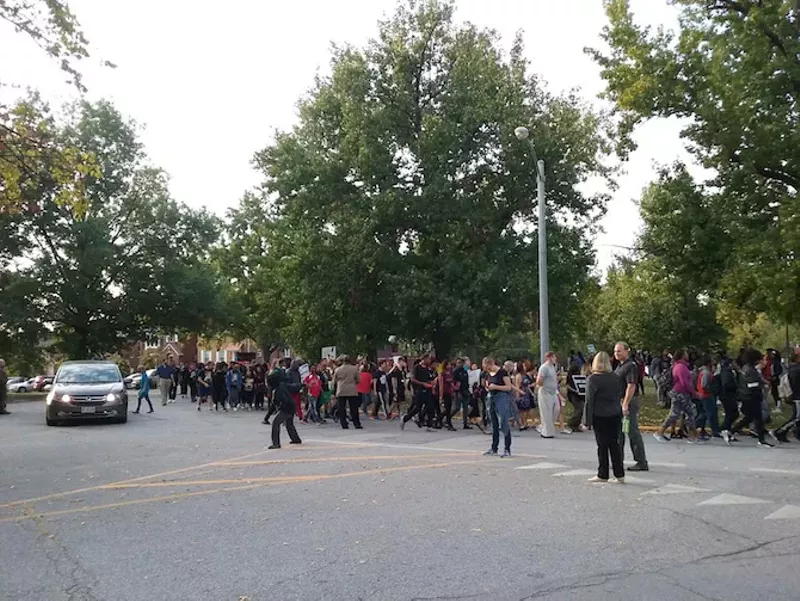 PAUL FRISWOLD
A staff member (in black, center) moves in front of a driver who slipped through the teachers blocking Balson Avenue.
Two members of the maintenance staff broke out laughing as it happened, predicting that the students were "heading for the Loop."
Faculty headed after the marchers, and turned them around near Christ the King school. Spectators applauded them as they strode into the school.
Dozens of students also walked out at Kirkwood High School this morning.