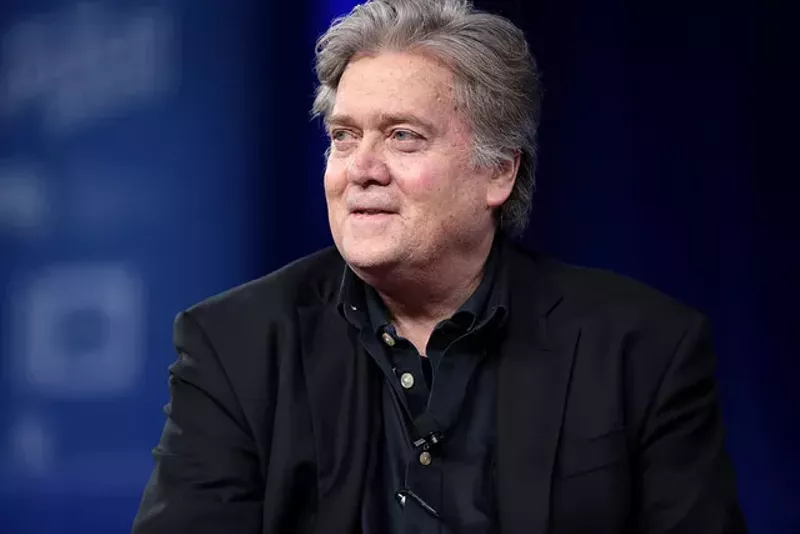 PHOTO COURTESY OF FLICKR/GAGE SKIDMORE
Steve Bannon, honorary Eagle.
A city still grappling with the fallout from a weekend of broken windows, bad headlines and blasts of tear gas is about to be confronted with one more indignity: Steve Bannon is coming to town this coming weekend.
Bannon will be one of the guests of honor at the St. Louis Airport Marriott this weekend for Phyllis Schlafly Eagles' "Eagle Council 2017."
According to a press release from the organization, the Breitbart News chief and former chief strategist to President Donald Trump will receive the "prestigious Phyllis Schlafly Eagle Award." Bannon will also reportedly attend the Eagle Forum Education & Legal Defense Fund executive board meeting on Sunday.
Phyllis Schlafly Eagles and the Eagle Forum Education & Legal Defense Fund are of, course, the splinter organizations run by former Missouri GOP Chair (and former candidate for all sorts of offices) Ed Martin, who, like Bannon, is no stranger to bombast or controversy. Martin and two of Phyllis Schlafly's sons have been running the St. Louis-based organizations since
a bitter court battle last year
left the original Eagle Forum in the hands of its former board members.
Sayeth Martin,
Steve Bannon is a proven political force to be reckoned with. His leadership of the Trump 2016 campaign showed us not only that he is a true movement conservative, but that he knows how to cut through the establishment 'kingmaker' clutter and message directly to the American people.

We are thrilled to have seen Mr. Bannon in his influential White House role, and we are honored to have him join us this weekend at the 46th Annual Eagle Council.
So, hey! Want to check out the conservative provocateur in person — and get a load of some of his brilliant ideas for running the country and/or the White House? There are tickets available, but they'll cost you at least $30/each.
See the
Eagle Council's event site for more details
.
Editor's note: A few words in the original post were revised around 4:15 p.m.

We welcome tips and feedback. Email the author at [email protected]