PHOTO BY THEO WELLING
Protesters face off in downtown St. Louis yesterday after the acquittal of a former city cop.
A horrifying moment captured by Fox-2 (KTVI) in downtown St. Louis yesterday shows an older woman being knocked down — and then trampled by officers who marched right over her.
The video was captured on a Livestream of
yesterday's protests by Fox-2
, then later highlighted by the
group Resist STL
.
The protests — which broke out yesterday
during the day in downtown St. Louis
and then
in the Central West End at night
— were a reaction to the acquittal of former police officer
Jason Stockley on a murder charge
. The decision quickly triggered an angry reaction.
Protests were largely peaceful throughout the day and into the evening, although they took a dark turn after 9 p.m. The incident captured on video shows something much earlier in the day, when only a few hundred protesters or so moved through downtown.
Those protests did have moments of intensity, including
the use of pepper-spray
and the confrontation captured below.
The footage shows a white-haired woman in a long skirt and red top facing police officers as they march forward. As they come upon, she is spun around and then knocked to the ground.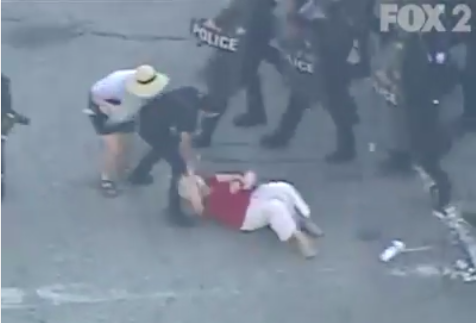 Another woman rushes to help her — but officers push her away as they continue to march forward. As they walk over her, she appears to take a foot to the head.
The woman holds her hands over her face to shield herself as they continue to advance, issuing streams of pepper spray.
Only after they've walked past her do a few officers return. They cuff her and they lead her off-screen, apparently into a waiting police car.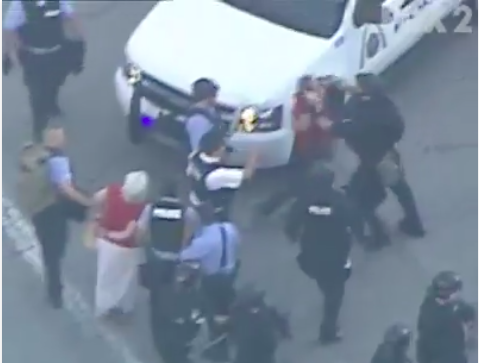 Perhaps in response to all the attention given the video this morning, police tweeted this afternoon that the woman refused to obey their orders and has been charged with "interfering."
Charlie Brennan of KMOX tweeted that he witnessed the incident, and the woman had basically dared police to take her out.
If Brennan's account is indeed true, the woman miscalculated: Clearly, the police were willing to "bother" an old lady.
In total, police took into custody just thirteen people during the daytime protests. They also say four officers were injured.
By evening's end, a total of 32 arrests had been made, with eleven officers injured, nine of them St. Louis Metropolitan Police Department members.
Editor's note: We updated this post at 3 p.m. to include the police response, as well as eyewitness testimony from journalist Charlie Brennan.