Photo by Danny Wicentowski
Police dropped tear gas canisters in the Central West End around 10 p.m. on Friday, September 15.
Not long after disbanding in downtown St. Louis, protesters angry about this morning's
acquittal of former St. Louis police officer Jason Stockley
showed up in the city's Central West End, marching and chanting.
As night fell on the city, some protesters filled the intersection of Maryland and Euclid, with others peeling off to march south down Kingshighway Boulevard toward Barnes-Jewish Hospital.
See also: Photos of Today's Protests in Downtown St. Louis
The mood was loud but initially peaceful, with drummers keeping a beat and an almost celebratory tone.
PHOTO BY DANNY WICENTOWSKI
Hundreds of protesters fill St. Louis' Central West End on Friday, September 15.
At Maryland and Euclid, a man with a bullhorn led the crowd in chants, including "Shut it down!" and "Black Lives Matter!" The crowd also engaged in a call and answer, echoing the call from Ferguson: "Whose streets?" "Our streets?"
Observers say there are far more people on the streets than there were earlier today, when the crowd was estimated at 200 or 300. The number of protesters on site as of 8:20 p.m. appears to be more like 1,000.
This video, shot by the
RFT
's Danny Wicentowski, shows the size of the crowd:
Even though the protest took place in the heart of the neighborhood's commercial district, there was not a heavy police presence; police appear to be giving protesters some space.
Officers did mass near the I-64/Highway 40 on-ramp at Kingshighway to prevent protesters from getting onto the freeway. Protesters marched toward the highway entrance, but ended up stopping, pausing in the median and then turning around, ending up back in the commercial district without any real clash.
At one point, some protesters set fire to an American flag in the median area, but others quickly doused it.
Staffers at Left Bank Books were seen handing out water and Black Lives Matter signs to the protest group, while diners continued to eat and drink in the neighborhood — in some cases even at sidewalk tables. At Pi Pizzeria, owner Chris Sommers also offered water.
The protesters continue to move through the neighborhood, drumming, shouting and expressing their right to free speech far from
the city's designated zone
.
Later, protesters set two different flags ablaze. Other protesters argued with them over the action, leading to some sharp words.
Around 9:20 p.m., a protester picked up a rock and threw it at Left Bank, but it didn't break the book store's large glass windows.
Owner Kris Kleindienst picked up the rock and took it inside.
Around 9:45 p.m., protesters reached the home of Mayor Lyda Krewson, who lives in the western end of the Central West End.
"Wake up, Lyda," they called. "Wake up, Lyda!"
But at Krewson's home, the protest took an ugly turn. Someone threw a rock at Krewson's house, breaking a window. Someone also apparently threw red paint on the home.
The cops were right behind them. They began to physically shove people off the property.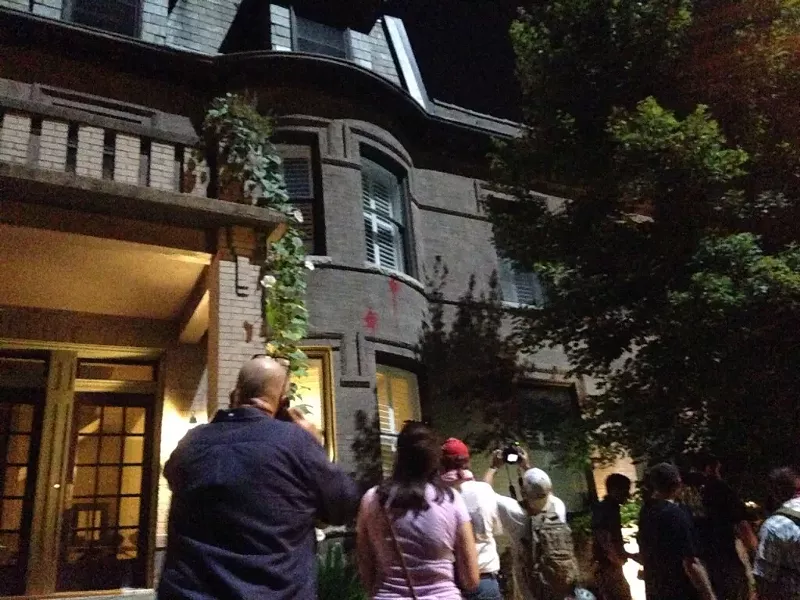 PHOTO BY DOYLE MURPHY
Lyda Krewson's home was hit with red paint.
More cop cars began to arrive, and then a protester smashed one of the car's back windows. At that point, more cops streamed in.
Several city buses pulled up with cops wearing SWAT gear — an estimated 50 to 70 cops in riot gear. They did not have any lights on.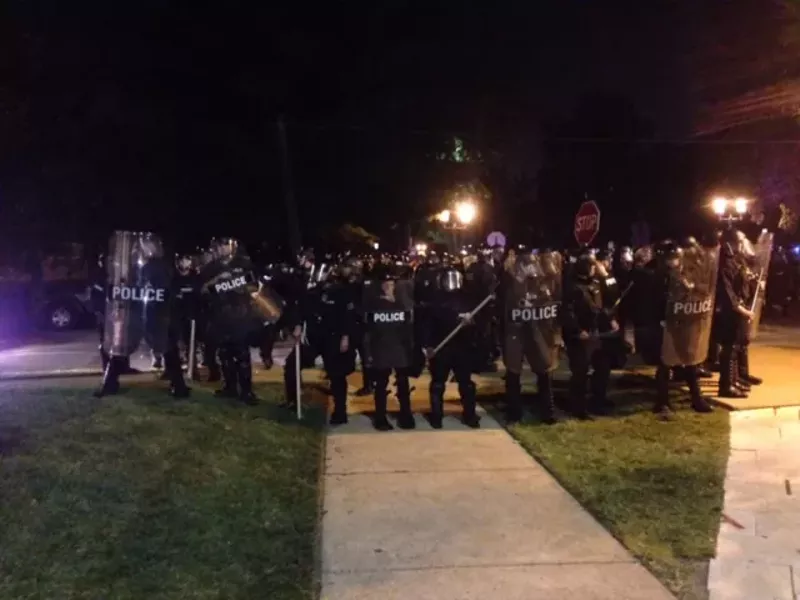 The cops then marched down Krewson's street and returned back to the home. They have declared an unlawful assembly and ordered protesters to disperse.
Protesters attempted to disperse, but with so many officers in the street and lights shining down from TV news choppers above, some say they are having trouble finding a way out.
Police then began firing tear gas at protesters, right in the middle of the quiet residential neighborhood. Many protesters then quickly fled.
The cops subsequently confirmed the teargassing on Twitter.
The police department says at least one officer needs treatment after being hit with a brick.
The department later tweeted that two more officers were injured, with more more being transported to the hospital. A thrown brick was again cited as the cause.
As of 10:50 p.m., police continued to push protesters out of the Central West End's residential streets by throwing canisters of tear gas and marching down the street in near-military formation.
Some glass windows were shattered on businesses in the neighborhood, including at the public library branch on Euclid.
Police were pushing down Kingshighway, forcing protesters south. They then moved into the Maryland and Euclid intersection, blocking it to both traffic and protesters.
Both Mayor Lyda Krewson and Governor Eric Greitens condemned the turn the evening had taken.
Editor's note: We updated this post after it went live, and will continue to update it as the night continues.