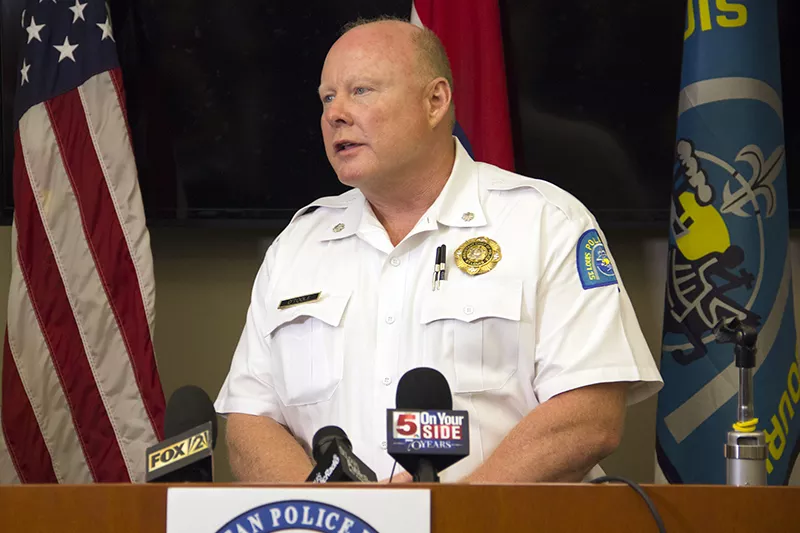 PHOTO BY DANNY WICENTOWSKI
Acting police chief Lawrence O'Toole
Today's early-morning announcement that ex-St. Louis cop
Jason Stockley had been found not guilty of murdering Anthony Lamar Smith
set the region's inhabitants on edge, and protesters and police have already clashed on downtown streets.
During a 6 p.m. press conference at the St. Louis Police Department headquarters, St. Louis Mayor Lyda Krewson and Acting Police Chief Lawrence O'Toole both remarked that, for the most part, the demonstrations today were peaceful.
However, "There have been some tense moments where agitators became destructive," said O'Toole.
See also: Protests Target Downtown St. Louis After Stockley Verdict (PHOTOS)
According to the chief, officers made thirteen arrests on charges ranging from assault on a law enforcement officer to failure to disperse, interfering and peace disturbance. He also said that four officers sustained minor injuries, including one who was struck by a thrown water bottle; three of the officers declined medical attention.
During the press conference, O'Toole was asked whether the response to the protests had gone the way he wanted. The chief turned the question around.
"I would probably pose that same question to the people who said earlier that it was going to be disruptive," he said, referencing previous declarations by a group of faith leaders and protesters who vowed to bring "mass disruption" to St. Louis if Stockley was acquitted.
"Well," O'Toole continued, "it's been disruptive, we all know that, it's hardly been completely peaceful. I've had officers assaulted."
From the protesters' perspectives, it is the police officers whose responses have been less than peaceful.
Several demonstrators were maced earlier this afternoon
, with one woman claiming she was maced without warning while attempting to block a bus. Another onlooker said that protesters were being maced at "point blank" range.
Videos of arrests and macings have begun widely circulating on Twitter. In particular, Tony Rice —
aka Twitter user Search4Swag
— captured footage of an officer
spraying mace in a wide cloud
. In another clip, a police officer appears to baton-poke a man in the chest before other officers swarm and slam the man to the ground.
The St. Louis police department, too, has begun posting video and photo updates to Twitter.
This afternoon, the @SLMPD account published photos of rocks and bottles allegedly thrown at officers. Its most recent post is a video showing "agitators damaging a police car."
Follow Danny Wicentowski on Twitter at @D_Towski. E-mail the author at Danny.Wicentowski@RiverfrontTimes.com