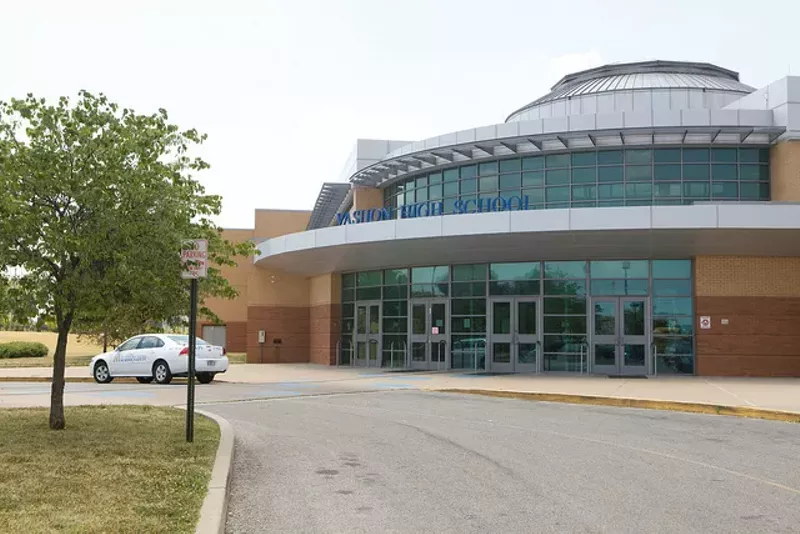 Update: School officials say the man is on unpaid leave. See their statement below.

Original story follows.
A St. Louis man who is facing child pornography and sex trafficking charges for a string of illicit texts he exchanged with a fifteen-year-old student is somehow still employed as a school suspension monitor at Vashon High School, according to district officials.
As first reported by KSDK
, Michael A. West, 45, was charged Thursday with second-degree sex-trafficking and second-degree child pornography.
The charges stem from West's interactions with the victim, who is a male student at the school where West works. Between July 1 and August 10 West allegedly reached out to the young boy and offered to help the student make some money. West reportedly told the boy he could arrange meetings for him wherein he would perform sex acts in exchange for cash. West allegedly said he would take a portion of the money for setting up the meeting.
West also asked for an explicit photo of the young boy that he intended to share with other parties.
But here's the crazy part.
KMOV reports
that, as of Friday, West is still employed by the school. Decisions regarding employment have to brought to the school board, district officials say, but the board has not yet met since the arrest.
Update: A spokeswoman for the district said this in a prepared statement at 5:30 p.m.
Pursuant to Missouri law, certain employees of Saint Louis Public Schools are entitled to due process rights before they can be terminated from their employment. Although SLPS does not comment on specific personnel matters, we can confirm that we have an employee named Michael West who is employed as an in-school suspension monitor at Vashon High School, and that Mr. West is currently on unpaid leave.
.