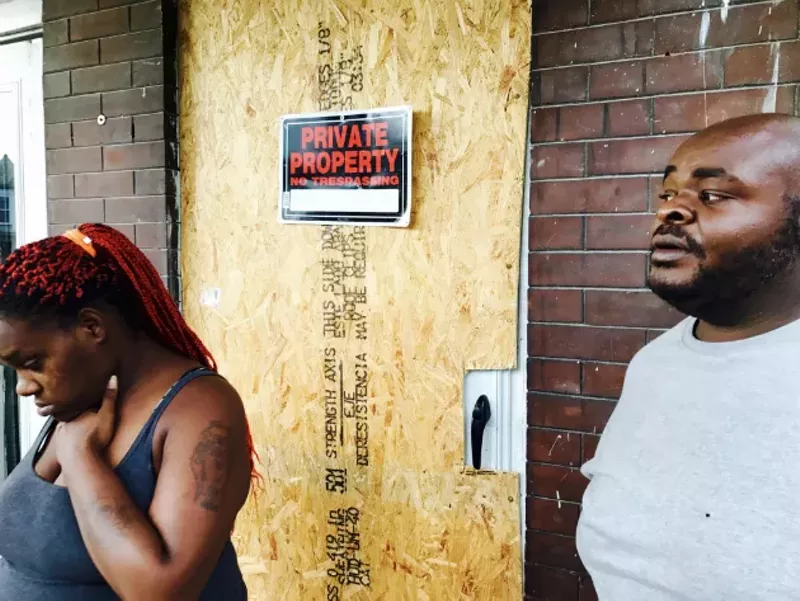 Image via ArchCity Defenders
Shontell Davis and Obadiah Lee say their landlord tried to illegally lock them out of their apartment.
A pair of young parents who came home to find their apartment door had been boarded up, with their child trapped on the other side, have won an early court battle with their landlords.
Shontell Davis and Obadiah Lee say they have been repeatedly locked out of the crowded north city rental house. That includes an incident on Sunday when they were separated for two hours from their baby, whom they'd left in the care of another tenant in the building while they went grocery shopping.
"I pray we get into something stable and that, next go-round, we don't have to mess with a landlord like this," Davis says.
ArchCity Defenders filed for a temporary restraining order on the couple's behalf. During a hearing on Thursday, a judge granted the request, which should halt the strong-arm eviction tactics.
The nonprofit law firm had previously challenged the landlords — Reginald Williams and Kimberly Franklin — after another tenant was evicted from the Greer Avenue building, where fourteen to sixteen people live in stripped-down rooms among spiders and roaches.
Image via ArchCity Defenders
The door of 3925 Greer Avenue was boarded up went tenants came home on Monday.
That legal battle was the subject of an
August 7 story in the Riverfront Times
. Tenants complained that Williams ignored the deplorable conditions, threatened them and tried to force them out when they withheld rent in protest. He told the
RFT
at the time that the accusations were "ludicrous" and blamed the building's problems on the tenants.
He is suing Davis and Lee for unpaid rent. But instead of waiting for the case to be decided in court, the couple claims he tried to evict them illegally.
Williams padlocked the door three times in the past month, according to a countersuit ArchCity filed on Wednesday. On Sunday, with their infant son locked inside, they called police and firefighters, who cut the lock off.
On Monday, Williams responded by removing the front door from its frame and barricading the opening with plywood, the suit says.
We welcome tips and feedback. Email the author at doyle.murphy@riverfronttimes.com or follow on Twitter at @DoyleMurphy.