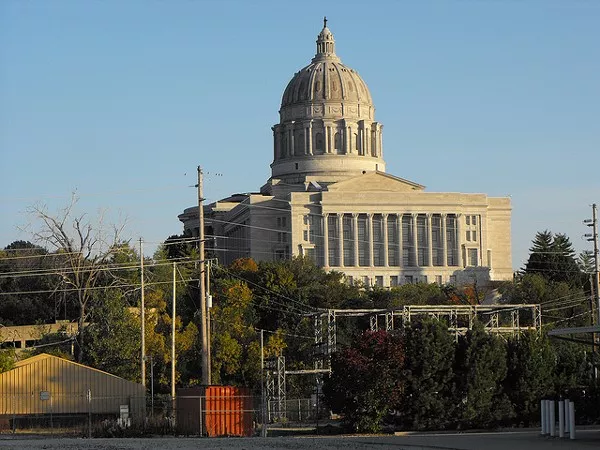 After Missouri Representative Warren Love (R-Osceola) came under fire last night for suggesting vandals who defaced a
Confederate statue should be "hung from a tall tree with a long rope,"
he argued that he couldn't be racist because, well, he once co-captained a softball team with a black lawmaker.
"You can ask anybody in that Capitol," Love
told the Post-Dispatch
. "I probably have a better relationship with the minorities than anybody up there at the Legislature. "I play softball with them, I'm good friends with them. I, you know, I sit on the same side of the aisle with them and they're on my softball team."
But the Missouri Legislative Black Caucus does not echo that view. This morning, in fact, they issued a letter to House Speaker Todd Richardson, calling for Love's "censure and removal."
The letter asks for the matter to be forwarded to the House Committee on Ethics for an investigation.
And despite Love's suggestion that he's great friends with everybody, the caucus noted that he actually has a history of acting like, well, a Confederate-loving asshole.
"[H]e has called President Lincoln 'the greatest tyrant in American history and has referred to members of my committee as 'the black Negro,'" wrote Representative Alan Green (D-Florissant) on behalf of the caucus.
(And, yes, Love really did call Abe Lincoln "
the greatest tyrant and despot in American history
" — so much for the GOP being the party of Lincoln.)
The black caucus notes in its letter that state Senator Maria Chappelle-Nadal (D-University City) was stripped of her committee assignments, and faced an expulsion attempt led by the state's lieutenant governor, after she said on Facebook that she hoped President Trump would be assassinated. The black caucus swiftly condemned her.
"We hope and expect Representative Love to be held equally accountable," Green wrote on behalf of the caucus. "I've spoken to Representative Love about his passion for history, but as an elected official, his statement cannot be justified. It is tragic that it needs to be said, for an elected official to hope for lynching as retribution for vandalizing a Confederate statue is wrong.
"Representative Love must resign; even if he did not contemplate acting on his own words, those words can inspire, and similar words have inspired, African-Americans to be lynched in the state of Missouri."

We welcome tips and feedback. Email the author at sarah.fenske@riverfronttimes.com