Photo by Danny Wicentowski
NAACP president Nimrod Chapel at today's press conference. His t-shirt references a new Missouri law increasing the burden for proving workplace discrimination.

Hours before Missouri's governor halted the execution of convicted murderer Marcellus William
, St. Louis County Prosecuting Attorney Bob McCulloch defiantly insisted to the
Associated Press
that there is actually
"zero possibility"
the death row inmate is innocent.
That certainty — in the face of DNA evidence that could well exonerate Williams — has drawn sharp rebuke from the Missouri NAACP. The organization held a press conference this afternoon outside the St. Louis County courthouse in Clayton, blasting McCulloch.
"Is it the prosecutor's role to come out and try to defend every conviction that's ever been received?" queried Nimrod "Rod" Chapel, the state chapter president. "I think most trial lawyers do their best work in court. I'm not sure what the role of the prosecutor has to make that kind of statement to the community, other than to suppress the desire for justice."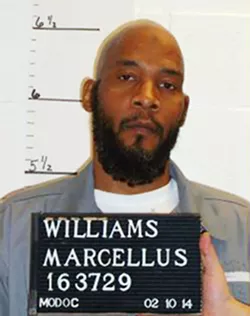 Marcellus Williams was sentenced to death in 2001.
Convicted in 2001 for the 1998 killing of former
Post-Dispatch
reporter Lisha Gayle, Williams' execution had already been delayed once in 2015. Williams' lawyers, however, made a last-ditch push for yet another delay, citing an independent DNA analysis by biologist Greg Hampikian. The analysis showed an unknown male's DNA on the knife used to stab Gayle 43 times. Williams' DNA, his lawyers say, was not detected on the knife.
Initially, both the state and U.S Supreme Court declined to stop Williams' execution, but
public outcry
from supporters and anti-death penalty advocates raised the case's profile as the August 22 execution date approached. On the day Williams was scheduled to die by lethal injection, Governor Eric Greitens issued an executive order to stop the proceedings. Greitens instead ordered a five-person "board of inquiry" to consider the new evidence.
Before Greitens' executive order, McCulloch went out of his way to trash the significance of the DNA evidence. In an interview with St. Louis Public Radio (90.7 FM) the day of Williams' would-be execution, McCulloch said the conclusions Williams' attorneys were drawing were "flat out wrong" because the DNA evidence was "not of sufficient quantity or quality to identify or exclude anyone."
"Marcellus Williams killed her," McCulloch told the radio station. "It was a vicious assault. He laid in wait for her."
After Greitens issued his executive order that same day, McCulloch doubled down. In an official statement from his office, he said, "I am confident that any Board and the Governor, after a full review of all evidence and information, will reach the same conclusion reached by the Jury and the various Courts."
It's also worth noting that the Missouri Attorney General's office has also defended Williams' guilt, arguing that there is enough
non
-DNA evidence to prove Williams killed Gayle while burglarizing her home. While no forensic evidence directly links Williams to the murder, two witnesses say Williams confessed to them, and several of Gayle's personal items were recovered in the trunk of his car.
As for McCulloch, it's fairly common to see prosecutors defending criminal convictions during appeals or civil lawsuits. However, during today's press conference, NAACP president Nimrod Chapel said the prosecutor had gone too far with his "zero possibility" comment.
"With this case being so important to a human being, to a life, he could have easily just been quiet," Chapel said. "But Bob McCulloch chose to make the statement, and by choosing to put things out, he brought us into the conversation. We can't stand by and let you bias the process."

Follow Danny Wicentowski on Twitter at @D_Towski. E-mail the author at Danny.Wicentowski@RiverfrontTimes.com