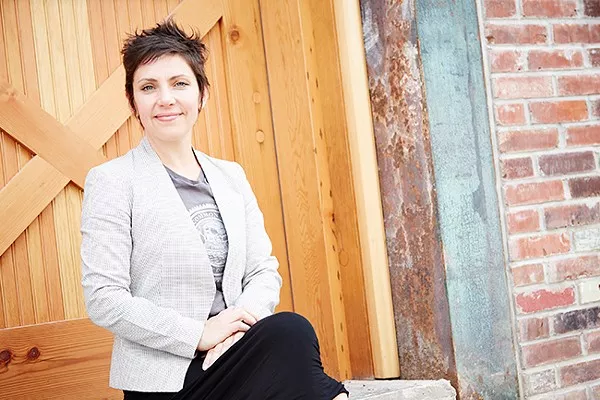 PHOTO BY STEVE TRUESDELL
Alderwoman Cara Spencer is seeking to change the interpretation of Prop NS's vote tally in April 2017.
Prop NS was the little ballot initiative that could. The brainchild of a committee on the St. Louis Association of Community Organization, or SLACO, it was a grassroots effort in every sense of the word. Backers didn't just raise money and then hire professionals — they personally knocked on doors.
The committee sought to persuade city voters in April to approve a tiny property tax increase (
one penny on every $100 of valuation
). That money would be used to issue bonds to stabilize city-owned vacant houses, getting them in good enough shape to be sold at a sheriff's sale. The city currently owns 3,500 vacants — but with a little structural support, backers thought they might be sold to homeowners wanting to put down roots in the city.
The ballot proposition came agonizingly close to passage, earning 31,926 votes after spending just $34,000. (Compare that to the campaign to build an MLS stadium, which spent $1 million and earned 4,000 fewer votes.) But even though it garnered 58 percent of the vote, it wasn't enough for passage — since Prop NS involved city bonds, it needed a two-thirds majority, or 66 percent.
Or did it?
Alderwoman Cara Spencer now says she believes that interpretation is incorrect. And she's working to get those election results reexamined.
It comes down to an interesting legal argument. The reason Prop NS needed more than a simple majority is that it has to do with a bond issuance. Under the city charter, that means (in municipal general elections like the one in April), two-thirds of those voting must say yes.
But Spencer says she believes state law trumps the city's charter in this case. And under state law, propositions involving bonds don't need two-thirds of voters in municipal general elections like the one in April. They only need four-sevenths.
By that measure, Prop NS actually made the cut. They would only need 57.14 percent under the state standard; they squeaked past that by a full percentage point. Victory!
A key court opinion backs such an interpretation. In 2000, the eastern district of Missouri's appellate court held that the city of Hazelwood could not require two-thirds approval for a bond plan there — state law, instead, prevailed.
Late last week, Spencer formally asked for a legal opinion from the City Counselor, asking him to clear up whether the state standard applies in this case.
"Such an opinion is necessary before the Board of Aldermen and other City officials can complete the issuance of bonds," she wrote. "Since this election took place over four months ago, I would request an expedited response to this question."
Contrary to the dispassionate language in her legal request, on the phone, Spencer is wildly enthusiastic about Prop NS and the ways it could help neighborhoods like the one she represents, which includes Gravois Park and part of Cherokee Street.
"We have an enormous vacancy problem in the city," she says. "In the 20th ward, 30 percent of our housing units are vacant. And we have no tools to stabilize the buildings that are crumbling in our neighborhoods."
Spencer believes the relatively small amount of money Prop NS would raise — up to $40 million — would go a long way.
"One of our city's best assets is our beautiful historic housing stock," she says. Beyond that, she notes, "A majority of St. Louis voted for this!"
As for the petitioners who worked so hard to craft the ballot proposition, they were initially surprised by how close they came. Says Stacy Ross, "I am shocked that our little group of people were able to be more successful than the stadium people, who had millions of dollars."
Now they wonder if the proposition could be even more than a near-miss. Could they have won enough votes to make new policy for one of St. Louis' long-standing, most pressing problems? Four months after the Prop NS campaign seemed over for good, Ross and the other backers are again holding their breath, waiting for a decision.
We welcome tips and feedback. Email the author at sarah.fenske@riverfronttimes.com