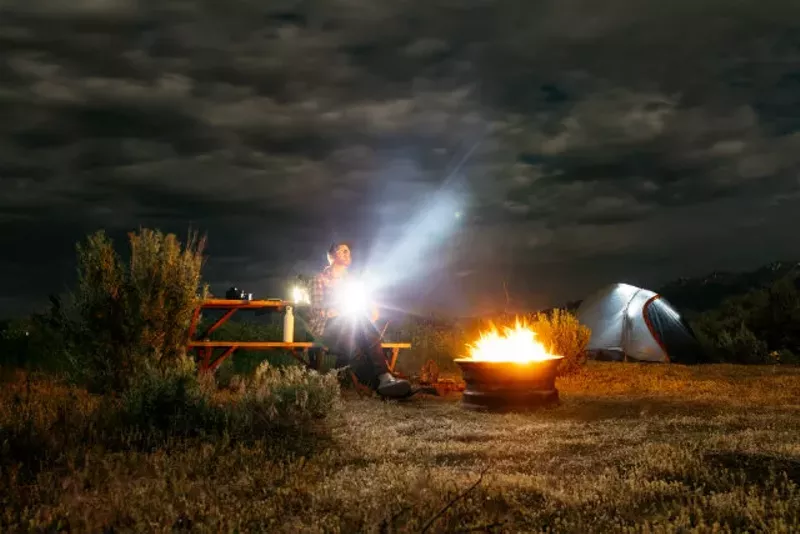 Photo courtesy of Mauricio Guitron
Campsite-oriented startup, Hipcamp, will experience its biggest day of camping in history Aug. 21, the day of the Solar Eclipse.
Though parts of St. Louis are in the "path of totality" for the upcoming Solar Eclipse, a new campsite-oriented startup called
Hipcamp
may offer a better venue to observe it than say, your office building parking lot. What's more, if you have a sweet locale of your own, you may be able to profit by renting your space to campers looking for a good view.
The Tennessee-based startup, which launched two years ago, resembles the home-sharing model of
Airbnb
. However, instead of opening your home to a stranger on vacation, landowners can open their campsites, ranches, vineyards and farms to fellow nature fanatics.
With public campgrounds, hotels and Airbnbs all booked up for the eclipse, plenty of people have been looking for a place to experience the event. Thanks to Hipcamp's
Solar Eclipse Guide
, more than 6,000 private campsites have popped up in the path of totality, according to Hipcamp CEO Alyssa Ravasio. All you need to become a host for the eclipse: proximity to the path of totality and a place for campers to pitch a tent in nature.
"This is an incredible natural phenomenon so being out in nature I think is going to make it that much more powerful," Ravasio says.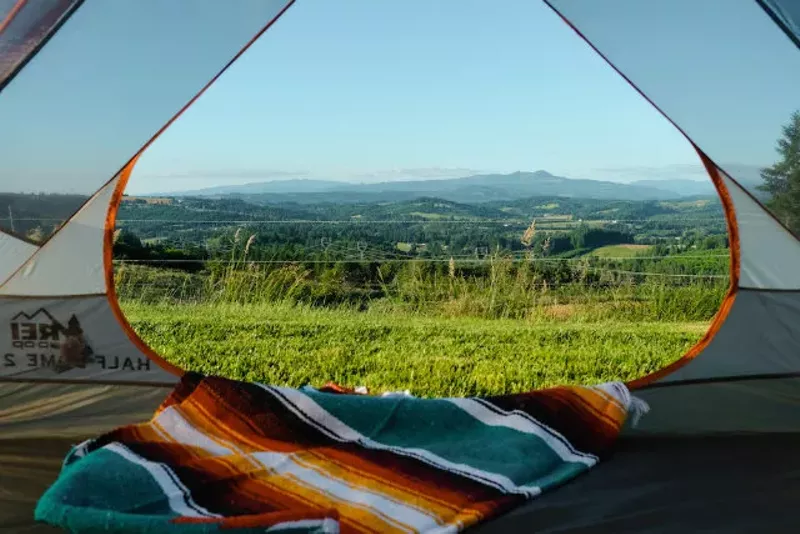 Photo courtesy of Mauricio Guitron
Hipcamp users agree — the day of the solar eclipse will be the biggest day of camping in Hipcamp history by three times. And it's not too late to register. In fact, the startup has experienced the biggest spike in bookings in the last couple of days thanks to all the last-minute planners out there.
Originally, Ravasio was unsure about marketing around the event. In general, Hipcamp tries to steer clear of events like Coachella, where experiencing nature isn't the main goal. However, upon reading up about how the eclipse will be the only chance at "grasping the scope of our solar systems," Ravasio realized it was something worth covering.
"When I started reading about it and thinking about that awe, and that power and that beauty — for us, that's really in line with our mission of connecting people with nature," Ravasio says.
In keeping with the emphasis of nature, Hipcamp also tries to avoid situations where homeowners are renting out their backyards. Still, Ravasio says she's being "a bit more open" this Monday, given that the eclipse is so entrenched in nature.
So why the focus on the outdoors? Ravasio has been camping since she was a little girl, but when it came time to plan her own trips, she realized there was no centralized source for her to navigate where to go and what to do. Hipcamp streamlines that process.
"I was really passionate about solving the problem," Ravasio says. "It turned out that the only way to solve that problem was to create new camp sites. It seemed insurmountable at first, but the more we thought about it — working with private land owners was suddenly obvious."
Those land owners have been a key pillar of Hipcamp. The site takes a commission on the transactions of the booking, but the rest of the money paid by the campers goes directly to them — a boon to those with property in rural areas.
"In many cases, Hipcamp is making the difference in paying their mortgage and property taxes and saying no to things like clear-cutting or housing developments," Ravasio says. "So we really look at camping as directly financially supporting the restoration and conservation of all these private lands which are just a critical part of our ecosystem in general."
Ravasio even said one Hipcamp host in California consistently received inquiries via letters from big businesses about buying her property for new development. Thanks to the funds she raises via Hipcamp, the owner has never felt pressure to sell.
"[The host] gave me a letter and said, 'You need to take this to your office because Hipcamp makes these letters junk mail to me,'" Ravasio says.
Part of what makes Hipcamp special is the individual attention owners can give to campers. For the eclipse, many owners have brought in music and food vendors for the event and have been scouting out the best viewing areas, according to Ravasio.
"I know a bunch of our hosts have been tracking the sun every day. They know where it's going to be and they've got the exact spot lined up," Ravasio says. "Being hosted and being guided by someone who lives on this beautiful land will really enhance the experience."
And those hosts aren't too far out of reach. In fact, there are
several
St. Louis- area properties still available for Monday.
The hosts decide their own prices, but most sites on the path of totality start around $50 to $100 per night.
Though you may be able to see the eclipse just fine from your own home, Ravasio says it will pale in comparison to watching from the great outdoors.
"I think to really experience a solar eclipse and all that it can provide, you need to get outside for a couple days," Ravasio says. "I find that in a couple days you sort of shake off the shackles of society."