PHOTO BY CAITLIN LEE
The Everly's amenities include a fourth-floor pool and a Jumbotron.
Tuesday was move-in day at Everly on the Loop — the pricey new high-rise on Delmar targeting students at Washington University and other nearby colleges. Complementary sushi from United Provisions and Insomnia cookies were just the start of amenities that greeted new residents.
Around 250 people were moving into their furnished apartments. Seventy-five more will join them next Monday, just a week before classes start at Wash U. That's enough to fill about three-fourths of the building's
428 bedrooms
, says Brant Pustay, a leasing and marketing specialist with Landmark Properties, which is managing the project on behalf of the Koman Group.
Management teams have hosted a variety of promotions over the recent months. Some marketed free food celebrating graduates at Chris Sommers'
nearby restaurants Pi and Zza
, while others offered new leasees a chance to win a
$10,000 scholarship
. Landmark reached out Washington University students through mass emails to their school accounts. Students say freebies like Kaldi's gift cards were handed out to them by Everly's marketing team while traveling around campus.
Still, the units are significantly more pricey than almost anything else in the area: A studio will put you back $1,475 a month.
Construction workers, management staff and tenants filled the entrance on the summer afternoon. "We just moved in," says Jennifer Sun, a graduate student studying biomedical engineering at Washington University. She decided to rent at the Everly because she prefers newer construction and is attracted to the apartment style set-up, amenities and location.
Despite no formal affiliation with any university, the majority of the Everly's residents are students. The Koman Group did not respond to a request for a breakdown of which universities its tenants attend or provide the numbers of leases held by non-students and families with children.
In March, the
Riverfront Times
reported that the room-by-room leasing structure and marketing campaign
prioritizes college students over low-income families
, despite a sizable tax incentive package enabling the development. The Everly is one of a few privately-owned new builds and renovations in St. Louis with this model — part of a nationwide development trend targeting a young, affluent clientele.
In recent months, the Everly has offered discounted rates. Says Pustay, "Right now we are kinda depending on word of mouth." The hope is that friends of residents will sign leases after visiting their friends' new homes.
Some students weren't interested. "I just thought it was ridiculous how expensive it was," says Amy Chen, an undergraduate student at Washington University. "It was insulting that they thought that college students would easily spend that much money superfluously. All those luxuries seemed unnecessary. Also, the constant pandering to students became really annoying." As
St. Louis Magazine previously reported
, some students and city residents even took to social media demanding development subsidies prioritize affordable housing.
While construction is now complete in all the apartments, it continues on the facade but is expected to be completed soon. Pustay says Koman has not yet announced commercial tenants for the street-level shops, which are being built on a deferred schedule.
Scaffolding occupies a small corner of the otherwise pristine fourth-floor roof deck, which features a one-foot deep wading pool, an astroturf lawn, marble countertop flanked grills and a jumbotron for sports games. The floor also hosts a 24-hr gym and a tanning room residents can use once daily.
PHOTO BY CAITLIN LEE
A tanning bed offers free daily use to residents.
When talking about programming, Pustay says, "As opposed to the fun party atmosphere, we do want to bring the academic side as well." He notes that monthly events will center one of four rotating themes: philanthropy, academics, wellness and social. For example, during midterm season the live-in management team may host late-night study breaks with free food and Red Bull.
The project has a new marketing manager: Landmark took over for a company called Campus Advantage. Sun says she and other residents recently signed leasing contracts for a second time to accommodate the change. Beyond changes in staff and contracts, much of the marketing, programming and amenities appear similar to when Koman Group contracted with Campus Advantage.
Landmark's Pustay agreed to give a reporter an impromptu tour of the building, but the company did not respond to additional requests for comment. Koman Group did not respond to emailed questions and subsequent calls requesting comment.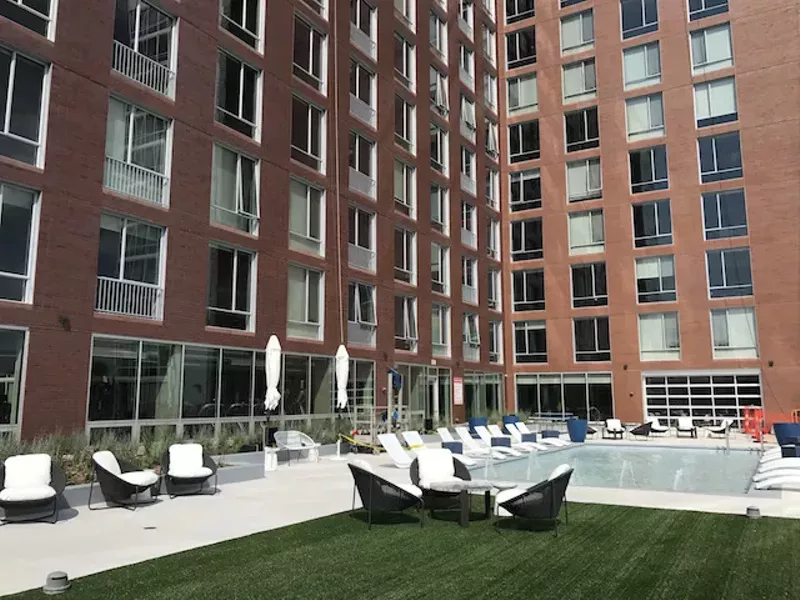 PHOTO BY CAITLIN LEE
The project received $12.8 million in tax abatements.
Landmark Properties, which specializes in student housing management,
also manages the Standard at St. Louis, a luxury "off-campus community" located near Saint Louis University's campus. The Standard is also new construction, but, as unlike the Everly, the Standard was built without tax incentives from the city. The city assessor's database reports that the Standard paid more than $752,000 in real-estate taxes in 2016.
The Everly is getting a break on all that. Move-in day at the Everly marks the beginning of a sixteen-year,
$12.8 million tax abatement from the city
. Mayor Lyda Krewson helped secure these incentives for the developers when she was alderwoman.
"It was galling to see [the Everly] open on the first week of school at SLPS," says Kathleen Carson, a St. Louis Public Schools parent. "We've allowed our tax dollars, 60 percent of which would have gone to the school district, to be used to pay for private perks, while school teachers are paying out of their own pockets to make sure their students have basic supplies and working second jobs to make ends meet."
Had the Everly been built without tax abatement, around $7 million from property taxes would go to St. Louis public schools over that sixteen-year period. That has left a bad taste in some parents' mouths, a taste that has been lingering for a while now. In 2013 historian George Lipsitz wrote, "Despite extravagant claims that tax abatements and other subsidies would increase the general wealth of cities, the St. Louis case shows clearly that subsidies… do not 'trickle down' to the majority of the population, but instead function largely as a means for transferring wealth and resources from the poor and the middle class to the rich."
The Everly's tax abatement package does not require the developers to meet any affordable housing commitments. Tia Byrd, a steering committee member of St. Louis Equal Housing and Community Reinvestment Council, says with rents increasing while wages are stagnating, the city needs to invest in its growing population of residents living paycheck-to-paycheck. She underscores that the city and its residents would benefit from a prioritization of affordable units, rather than luxury units for affluent residents.
But since the Everly is one of many high-end buildings granted subsidy from the city, the city's implementation of development incentives is not only dictating which residents gain access to quality housing and education—but also taking a perilous toll on the city coffers. Byrd says, "These short-sighted investments have terrible long term consequences; they are bankrupting our city."
Caitlin Lee (@_gears__) is an independent researcher in St. Louis and a graduate of Washington University. The RFT welcomes well-reasoned essays on topics of local interest; contact Sarah Fenske at [email protected] if you've got something to say.