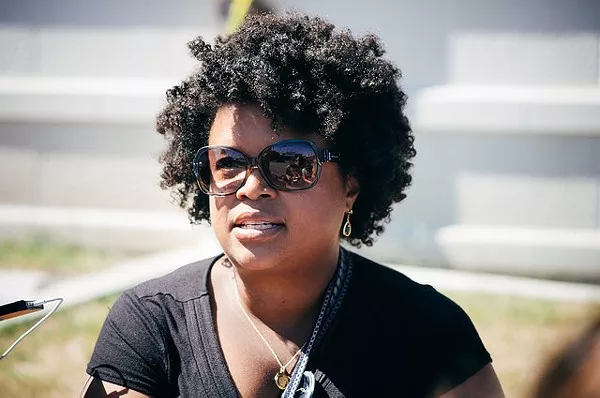 PHOTO COURTESY OF FLICKR/JAMELLE BOUIE
Maria Chappelle-Nadal.
This morning, while Missouri State Sentaor Maria Chappelle-Nadal was tweeting that Donald Trump
"traumatizes his citizens"
and that the country's "strength is in doubt," the elected representative from University City also managed to raise doubts about her own judgment — with a Facebook comment seemingly supporting the president's assassination.
Chappelle-Nadal's comment came as a response in a thread with the subject of Vice President Mike Pence replacing Trump. One commenter in the thread seemed to joke that his participation in the discussion would earn him a visit from the Secret Service. Chappelle-Nadal chimed in.
"No. I will," she wrote. "I hope Trump is assassinated!"
Chappelle-Nadal quickly deleted the comment, but not before someone screenshotted it and threw it to the internet. As best we can tell, the screenshot first landed on Twitter this morning courtesy of PoliticMo, the now-mothballed news site run by former Missouri reporter/wunderkind Eli Yokely.
In an interview with the
St. Louis Post-Dispatch
today, Chappelle-Nadal explained that she'd written the comment out of frustration with Trump's response to the recent marches staged in Charlottesville by white nationalists and neo-Nazis.
"I didn't mean what I put up. Absolutely not. I was very frustrated," Chappelle-Nadal told the
Post-Dispatch.
She is also quoting as saying, "It was in response to the concerns that I am hearing from residents of St. Louis. I have deleted it, and it should have been deleted, but there is something way more important that we should be talking about."
Despite deleting the comment and the apology, Chappelle-Nadal, a Democrat, is already the subject of an intense social media backlash. Twitter is awash in demands for her resignation.
Notably, as of this writing, no Democratic state officials have stood up to defend Chappelle-Nadal's comment or to deflect blame. Missouri Senator Gina Walsh (D-St. Louis), who leads the Senate Democratic Caucus, called Chappelle-Nadal's comment "horrible" and that such behavior has "no place in our caucus, the Capitol or the Democratic Party."
Chappelle-Nadal has been something of a loose cannon in the past. Two years ago, she drew outrage after offering a bounty for information about union members who'd engaged in racist language — and
tweeting photos of them, some including their kids
. She also previously drew headlines after her Democratic colleague in the statehouse, Senator Jamilah Nasheed (D-St. Louis), accused
Chappelle-Nadal of threatening her at a Li'l Wayne concert
. "She said if she had a knife, she'd cut my fucking throat," Nasheed reported. (Chappelle-Nadal denied it, saying Nasheed was harassing her.)
This time, though, it looks like she'll get her wish: The Secret Service is, in fact, investigating her comment.
Update 4:00 pm:
Multiple elected officials are calling for Chappelle-Nadal to face punishment for her comment expressing hope for Donald Trump's assassination.
In a letter sent today to the chairman of the Rules, Joint Rules, Resolutions and Ethics Committee, State Rep. Joshua Peters requested that a special committee consider Chappelle-Nadal's "censure or removal" from office.
Peters and Chappelle-Nadal have clashed in the recent past. In January, Chapelle-Nadal accused Peters of inappropriately grabbing her in a
"forceful embrace"
during a floor debate. At the time, Peters denied the accusations and went as far as calling Chapelle-Nadal "mentally unstable."
U.S. Senator Claire McCaskill has also added her voice to the fray, releasing a terse statement this afternoon: "I condemn it. It's outrageous. And she should resign."

Follow Danny Wicentowski on Twitter at @D_Towski. E-mail the author at Danny.Wicentowski@RiverfrontTimes.com