Across the nation, Republicans
are scrambling to distance themselves
from President Donald Trump after
yesterday's disastrous press conference
, in which he equated Nazis with those protesting them. At minimum, many GOP office-holders resorted to a sort of queasy silence.
But not the Missouri Republican Party. It didn't just link to coverage of Trump's press coverage on Twitter — it praised him.
"America also has a President who isn't afraid to take on the hypocrisy and intimidation tactics of #fakenews," the party tweeted through its official
@MissouriGOP
account yesterday afternoon. "Way to go, @realDonaldTrump."
The tweet linked to a Fox News tweet from yesterday's press gaggle, subtitled "Pres Trump takes questions following statement on infrastructure plan" — questions that, yes, quickly had the president going
waayy
off script and his own Cabinet members cringing.
The reaction has been ... oh, just about what you'd expect.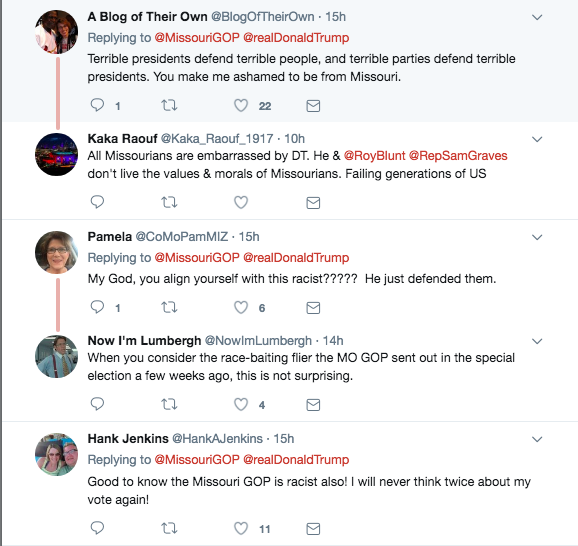 Unsurprisingly, ambitious Missouri Republicans — like, say, our brand-new state attorney general/possible senatorial candidate
Josh Hawley
— opted to say nothing rather than choose the wrong side of history and/or corporate donors. And while we'd never characterize that as a profile in courage, it seems a bit wiser than the state party's enthusiastic embrace of remarks that had America cringing.
Now, it's possible the tweet was issued before Trump went so badly off script. But to that, we have to wonder: Why not clarify or amend? Outraged comments drew no reaction from the official state account.
The state party had yet to take down the tweet as of 7:30 a.m. today.
We welcome tips and feedback. Email the author at [email protected]