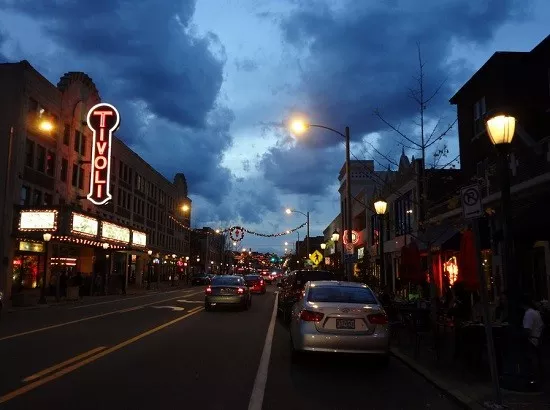 Yesterday was the
RFT
's last day in the Delmar Loop.
After some 21 year
s spent dodging speeding cars in crosswalks and slipping on Walk of Fame stars in the rain, we're settling in today at
our new headquarters in Downtown West
.
To commemorate our time in University City, we're gonna let the public in on a little secret: specifically, a parking lot in the heart of the Loop where you can park for free, every day, for
years
if you'd like.
This lot is hiding in plain sight — right next door to the Tivoli, in fact, between that building and the one that until recently housed Chipotle — but is well-camouflaged with the placement of one of those solar-paneled multi-space parking meters in the middle. Pay no heed to that meter; it is nothing more than a decoy meant to fool the gullible. Any money you put into it is essentially charity for U. City, which simply does not enforce parking regulations in that lot.
Photo by Daniel Hill
Seriously, it might as well be one of those red Salvation Army buckets.
The lot made its transition from fee to free in the winter of 2014, when the old-timey parking meters in front of each space were removed to make way for the solar-powered box. For a few months the lot provided no method at all by which you could pay for parking, rendering it a free-for-all affair that
RFT
staffers couldn't resist making use of.
Around springtime the multi-space meter was installed. The more timid
RFT
staffers resumed parking for free on the unmetered portions of Westgate — but fortune favors the bold, and I'd become spoiled. I wasn't going back without a fight.
Months passed. I parked in the lot every time I went to work. I did not see a ticket on my car for about a year. And even then, get this: That ticket had nothing to do with parking. My tags were expired. The fact that an officer had taken the time to write me a ticket for that, but
not
for failing to pay the meter, only emboldened me further. I soon talked more of my co-workers into resuming skirting the parking laws with me.
The next big test came earlier this year. In May I happened to pull into the lot at the exact same time as a University City parking enforcement officer. I'd made it years at this point, and I was pretty interested to see how far I could take things, so I opted to let it ride and put no money whatsoever in the meter, marching into work with not a care for the consequences. Even if they did get me on this day, I figured, whatever fine I was assessed would be worth the endless free parking I'd already secured by this point. It would be like those movies with the hardened criminals who remain stone-faced when the law finally catches up to them. "What took you so long?" I'd say coolly between puffs of a cigarette as the meter maid read me my rights.
But it didn't even come to that. Some six hours later I walked out to my car and found it sitting completely unticketed. I felt untouchable.
And so now, dear reader, you can too! Flout the norms of parking, ignore that useless box in the middle of the lot and walk confidently away from your unpaid space with your head held high.
Unless, of course, this story somehow changes things. But we have to doubt even this clarion call to action is going to get University City to start enforcing parking policy. The Loop needs customers, and what better way to attract them than to offer free parking in its very heart? Time to memorialize the free lunch that we insiders have been dining out on for years.
And guess what? Now that the lot isn't flooded with lazy
RFT
staffers, there may even be spaces available come happy hour. Don't say we never did anything for you; we just let you in on the best secret in town.