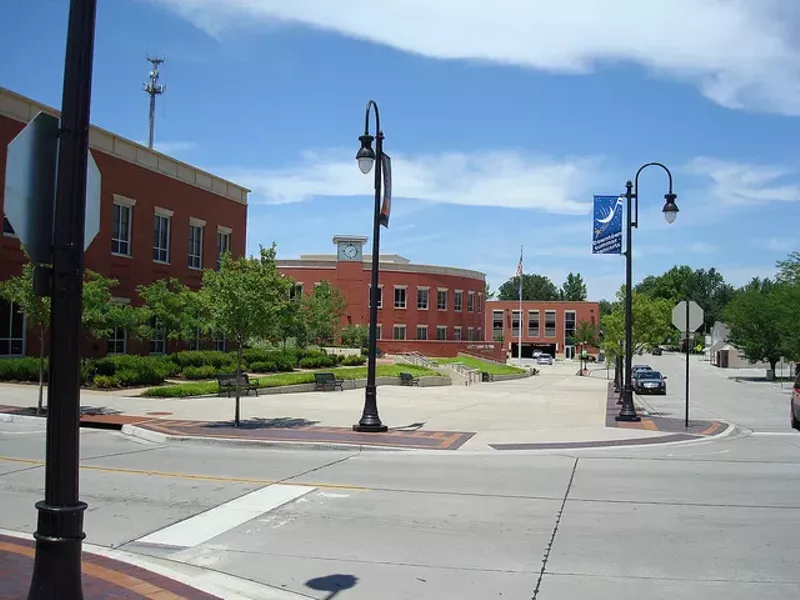 PHOTO COURTESY OF FLICKR/8ONE6
Lee's Summit, Missouri. Does this look like a place where a man would hire a hooker he's actually married to?
It's always a bad sign when a headline misspells the name of a city. But typos are the least of the fake-news errors in a wannabe viral story published last week that's probably popped up more than once on your Facebook feed.
The story, titled "Lees Summit, MO Man Who Booked Prostitute Finds It's His Own Wife," describes a 52-year-old man who hires a prostitute and — get this! — she's actually his wife. Now their marriage is a a toxic cauldron of betrayal and pain. Hilarious!
And also total BS.
An excerpt:
Guests in adjoining rooms called the front desk to report a disturbance at around 8 pm after the woman arrived and found that her client was none other than her husband of the last 19 years.

It emerged that the prostitute was actually the man's 43-year-old wife. She was furious to learn her husband had been hiring sex workers, although he was equally angry to learn his wife had been freelancing as a prostitute.
When it comes to the detection of fake news, there are plenty of warning signs here. There's no byline. The story cites a statement made to "authorities" without actually quoting the statement. There's no mention of which police department made the arrest or where the 52-year-old was detained — info that would be readily available with an arrest report or online court records.
via
The real crime is the missing apostrophe.
That's because, of course, the whole story isn't just a lazy, Penthouse Letters-style adaptation of the "Piña Colada Song," but a complete fabrication. In fact, Snopes.com reports, the website that published the news item about "Lees Summit" last week also posted a remarkably similar version of the tale in May.
That time, the incident took place in Katy, Texas
.
The fake news purveyor, United News, appears to be a node in a larger web of kinda-legit-looking websites that try to pass off unsourced news stories for viral traffic. Put another way, they intentionally pollute the news landscape to make a few internet bucks. They're the worst.
In the "about" section of United News, the website claims, unconvincingly, that its mission is to deliver "high quality journalism" and that "[o]ur journalists adhere to a strict code of ethics." Right.

Follow Danny Wicentowski on Twitter at @D_Towski. E-mail the author at Danny.Wicentowski@RiverfrontTimes.com