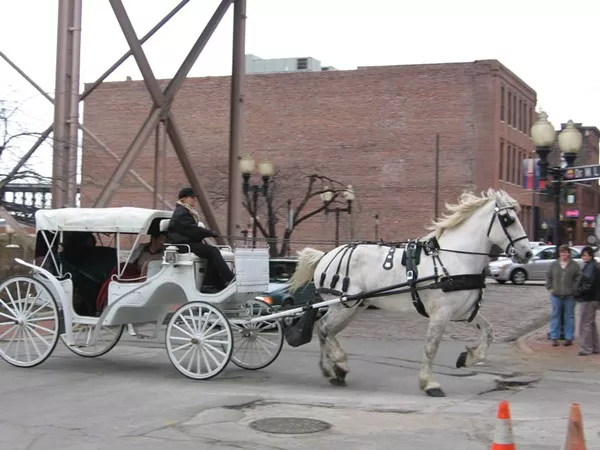 For nearly a year, the enforcement of any rules governing horse carriages in St. Louis city have been snarled by an ongoing lawsuit between a carriage company and the Metropolitan Taxicab Commission, or MTC.
Now, thanks to a St. Louis County judge's ruling earlier this week, the city of St. Louis will join the fray, setting the stage for what could be an actual legal reckoning between the ever-squabbling parties.
How did we get here? Basically, the MTC has staked out
a somewhat contradictory position
on whether it has the right to issue vehicle-for-hire licenses and enforce street codes on anything other than taxicabs. The horse carriage company, Brookdale Farms, insists Missouri law doesn't give MTC the right to regulate its business. MTC insists just the opposite.
The confusion over vehicle-for-hire regulations go way back, but escalated in September 2016, when the MTC issued a cease-and-desist order on Brookdale Farms. MTC accused the Eureka-based company of running unlicensed carriages and working in dangerously high levels of heat and humidity, violating MTC rules.
Brookdale disputed the accusations, and one month later the company sued MTC in a St. Louis County court. The lawsuit argued the agency had no authority to enforce any of its rules on horse carriages, and St. Louis County Circuit Judge Kristine Kerr agreed — saying that MTC could only regulate vehicles with taximeters. That would exclude horse carriages by definition.
Although Kerr's ruling only concerned Brookdale, MTC decided to stand down. An MTC lawyer later cited Kerr's order in a response to an animal rights attorney's inquiry, writing: "We are under a court order from Judge Kerr in St. Louis County not to enforce the carriage portion of the code."
After RFT revealed that MTC had retreated from its role as a regulator
, Brookdale's lawsuit suddenly emerged from dormancy. In June, a St. Louis city attorney filed a motion
to intervene in the lawsuit
.
Still, the matter of who's in charge remains complicated.
For example, in the midst of a brief arguing that the city should be allowed to represent its interests in court, the city acknowledges that the MTC doesn't seem entirely happy with shouldering the burden of regulating horse carriages.
"There is some indication that MTC would not strenuously object to being relieved of the duty and expense of regulating the horse carriages," the city states in motion filed last week. However, as noted later in the filing, St. Louis also believes it stands to benefit from ensuring that the cost and burden are split between the MTC and the city health department, which conducts inspections on horse stables and monitors the animals' health.
The city's motion also includes evidence that MTC enforcement officers have continued to ticket Brookdale carriages for violating the commission's vehicle for hire codes — the same codes, mind you, that Judge Kerr ruled couldn't be extended to vehicles without taximeters. Because of Kerr's ruling, "at least" ten citations are frozen in St. Louis Municipal Court.
Two of those violations come from the same day last August, when an MTC agent issued tickets to two drivers for operating without an MTC license and for working the horses on a day when the heat-index hit 102 degrees.
The city's court filing includes copies of emails the MTC sent to Brookdale owner Jerry Kirk earlier that day, warning of the high temperature. The paperwork records one Brookdale carriage driver explaining to an MTC agent why she was on the street despite the heat advisory: "My boss told me to keep working."
In an interview Thursday, Brookdale owner Jerry Kirk disputes the allegations described in the ticket. He also denies ordering his drivers to work despite the high heat index. "I don't believe for one second that the driver said that," Kirk says.
Adding another wrinkle: Brookdale is no longer listed as a corporation in good standing with the state of Missouri. Online records from the Secretary of State website show the company as "administratively dissolved" as of September 21, 2016, after it missed the deadline for renewing its registration.
This detail hasn't gone unnoticed. In a separate legal filing, St. Louis attorneys alleged that Brookdale "is not a corporation."
According to Brookdale, that matter is just a paperwork mix-up. Kirk provided
RFT
with a photo of a certificate from Secretary of State John Ashcroft, dated February 6, 2017, stating that Brookdale's good standing was restored. A spokesperson for the Secretary of State was not aware of that certificate when asked about the company's status on Wednesday.
The city's motion to join the case was granted on Tuesday. A case management conference for the lawsuit has been scheduled for August 31.
Editor's Note: A previous version of the story incorrectly stated that the certificate Kirk received from Secretary of State John Ashcroft was dated September 21, 2016. It was actually February 6, 2017. We regret the error.

Follow Danny Wicentowski on Twitter at @D_Towski. E-mail the author at Danny.Wicentowski@RiverfrontTimes.com