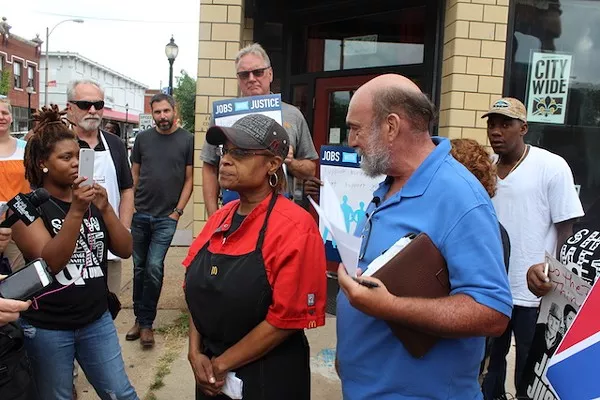 PHOTO BY QUINN WILSON
Lew Prince, right, and Betty Douglas have been those fighting to save St. Louis' minimum wage increase from state preemption. A new group hopes to take a statewide increase to Missouri voters.
So what if the state legislature
struck down
the city's minimum wage increase? A new effort aims to take those elected officials right out of the equation.
A group called
Raise Up Missouri
announced this morning that it would be gathering signatures to put a new ballot initiative before voters in November 2018. If the effort is successful, it won't just restore the $10 minimum wage approved by St. Louis' Board of Aldermen — it would significantly up the ante, with a $12 minimum wage across the entire state.
Now, before you start counting your extra money, a few caveats worth noting:
The raises would come in increments, beginning with an increase to $8.60 in 2019 and increasing 85 cents every year after that. We wouldn't get back to $10/hour until 2021 — and until 2023 to get to $12/hour.
Beyond that, of course, the entire initiative is dependent on the group collecting enough signatures to withstand any challengers (which is never as easy as it sounds — just ask
medical marijuana advocates
) and then persuading voters to say yes. They'll have to get more than 100,000 signatures from a broad swath of the state, earning a certain threshold of signatures from six of Missouri's eight congressional districts.
Still, advocates — who include labor, faith-based groups and activists — sounded hopeful.
"Governor Greitens said he'll raise wages, but he's doing the opposite," SEIU Local 1 Janitor Richard Franklin said in a prepared statement. "We're going to take the power away from the politicians, put it back in the hands of the people, and raise Missouri's minimum wage for working people. Because every working family should be able to pay the bills and put food on the table."
Visit Raise Up Missouri's website to
volunteer for the campaign
.
We welcome tips and feedback. Email the author at sarah.fenske@riverfronttimes.com