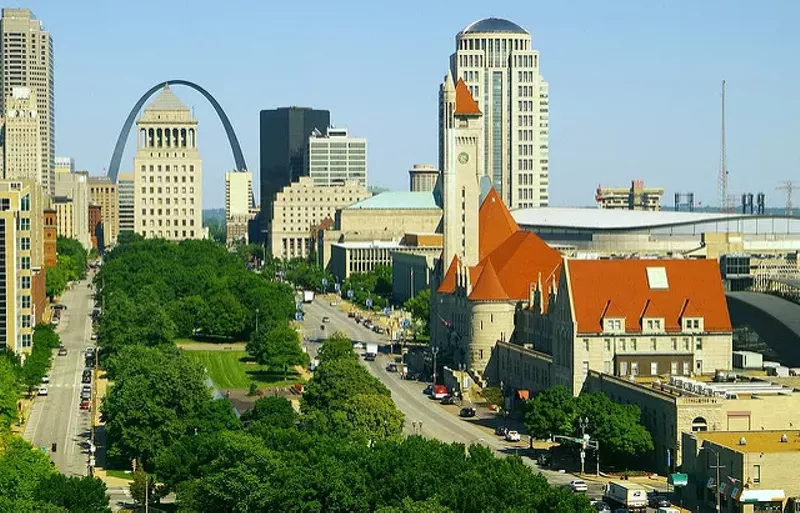 Just days after the St. Louis County chapter of the NAACP
criticized a "travel advisory" issued by its national conference
for Missouri, the local branch has returned to the fold.
In a statement released to the media yesterday, the St. Louis County NAACP said it "wholeheartedly supports" the travel advisory, which warns blacks and other minorities to be careful while visiting the state.
Esther Haywood, president of the St. Louis County chapter, attributed the change in course to greater understanding of S.B. 43,
the controversial measure
signed into law by Governor Eric Greitens earlier this summer.
The bill, which takes effect later this month, will modify the state's anti-discrimination law, making it harder for workers who've been fired to pursue a case against their employer. It will also gut protections for whistleblowers and limit damages.
The state NAACP had fought the bill bitterly.
"Those who sponsored this bill have used deceptive tactics to conceal what they've actually done," Haywood said in a prepared statement. "They've taken away our protections from unlawful and immoral discrimination. Just how far back in time are they planning to take us?"
One reason the legislation drew so much outrage in Jefferson City is that the senator sponsoring it is himself being sued for discrimination. State Senator Gary Romine (R-Farmington) owns a rent-to-own business accused of redlining and employing a manager who allegedly vowed "as long as I am manager, there will never be two black people working here again" and dropped the n-word. But when Rod Chapel, president of the state NAACP chapter, attempted to testify against the bill,
lawmakers cut his microphone
.
Chapel told the
RFT
last month that the travel advisory was suggested by members of the state chapter — and that it
found "ringing consensus" from the national delegates
.
In addition to passage of S.B. 43, the NAACP cited some troubling incidents that have taken place in the state in recent years, including
the death of Tory Sanders
, a Tennessee man who got lost and ended up in Missouri. After asking law enforcement for help, Sanders ended up tased repeatedly and later died.
Haywood had previously said she was concerned about how the advisory would harm those who work in jobs dependent on tourism.
"The people hurt by the travel advisory are the members of the NAACP community who work across our state in hospitality industry jobs," Haywood said in her previous press release. She also argued that since 38 other states have anti-discrimination laws like the one recently passed by Missouri, those states should be targeted with travel advisories as well.
We welcome tips and feedback. Email the author at sarah.fenske@riverfronttimes.com