PHOTO BY QUINN WILSON
Activists who support a higher minimum wage advocated at today's press conference.
More than 100 businesses in St. Louis have committed to paying wages higher than the law requires — keeping a $10-per-hour rate even as a new state law will soon drop the city's minimum wage back down to $7.75 an hour.
Credit for that goes to the
"Save the Raise" campaign
, which held a press conference today on the corner of Cherokee and Jefferson. After setting up shop just outside of Foam Coffee and Beer, six local small-business owners, an alderwoman and an employee affected by the wage battle shared their stories of fighting back against the state preemption.
The campaign was
birthed in July
as a way to get local businesses to voluntarily commit to keeping their minimum wage at $10 an hour or before a new state law goes into effect August 28.
So far, more than 100 local businesses have signed on — many of them small employers, who had previously been held up as most likely to be impacted by higher wages.
Developer Jason Deem, owner of South Side Spaces, lamented the fact that many larger corporations have chosen not to participate. "It's unfortunate that we as small business are having to lead the charge, but we'll take that burden and we'll prove that it works," he says.


Businesses that sign up for the campaign are given signs to advertise their support that read "We Pay the Fair Wage." Lew Prince, formerly co-owner of Vintage Vinyl in University City, organized that component. Within the first nine days, he says, "about 110" of the signs were up around St. Louis.

All six entrepreneurs who spoke this morning have businesses on Cherokee Street. Alderwoman Cara Spencer, who represents part of the neighborhood, praised the Cherokee Street district for taking the lead on the initiative.
"I think it's a shame that we can't do this city-wide," she says.
PHOTO BY QUINN WILSON
Cara Spencer says the city fought to work with many stakeholders before approving its increase to $10/hour.
The Board of Aldermen worked hard to develop the $10/increase, Spencer notes, which was a compromise between those who wanted the minimum wage to remain at $7.75 and those who wanted it as high as $15.
"We worked tirelessly for many months, holding many meetings with small business districts, small business owners and local business communities to make sure that it worked for everybody and it did," she says.
Gov. Eric Greitens chose to take no action on the preemption bill passed by Missouri Republicans earlier this year. That means it will become law without his signature, taking away the raise granted by the city months after it went into effect. Greitens said the St. Louis minimum wage ordinance would "kill jobs" and "take money out of people's pockets."
"What does [Gov. Greitens] get paid?" asks Casey Miller, owner of Vista Ramen, the Mudhouse and Dead Wax Records, which have committed to the higher wage. "Does he know how hard it is?"
Local McDonald's employee Betty Douglas expressed her appreciation to the small businesses for leading this movement and described her employer and other large corporations' noncompliance as "a shame."
"The big corporations aren't even giving it a try, they just say 'no,' and that's it. And I just think that's so unfair," says Douglas.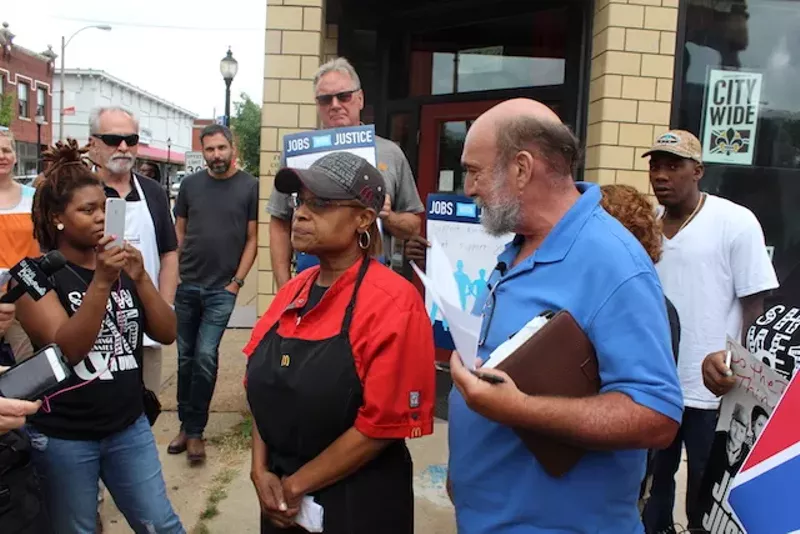 PHOTO BY QUINN WILSON
Lew Prince, right, looks on as Betty Douglas address reporters. Her employer, McDonald's, has not joined the campaign.