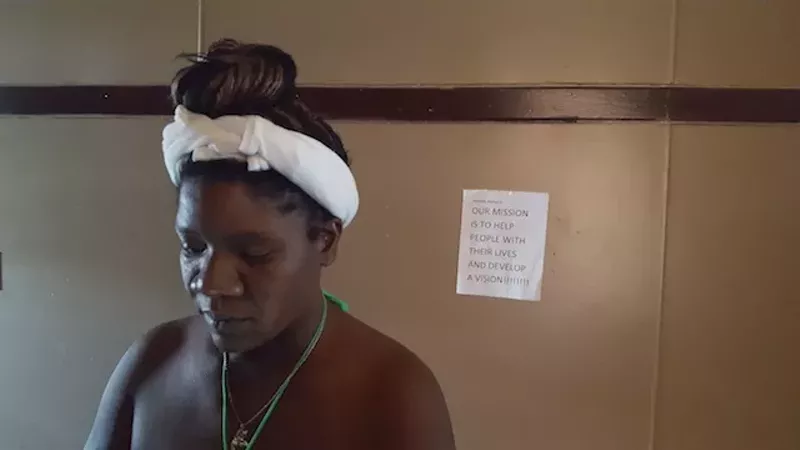 PHOTO BY ROBERT LANGELLIER
Je're Reid says her landlord has tried to evict her illegally.
"See 'em?" Je're Reid asks. She kicks a pile of clothes on the basement floor, scattering roaches across the concrete. "I just sprayed."
Reid is giving a brief, sweaty tour of the unfinished storage room from which she and her daughter are being evicted. A dim, 15-by-20-foot space with no air conditioning, it's just big enough for a mattress on the ground, a pile of bagged, roach-infested clothes, a fridge and a microwave (both with roaches), a pantry cabinet (roaches), a water heater and a chair. Incense sticks glow from the banister and from cracks in the walls where the black mold grew.
"She had another hard night," she says, referring to her thirteen-year-old daughter. "We was fightin' 'em off of her." Her daughter, who has asthma, eczema and sickle-cell anemia, has rashes on her skin from spider bites. "Oh, Jesus," she says, turning on a second fan.
Reid, a single mom on disability, rents the space for $400 a month from Reginald B. Williams Sr., a Chicago-based landlord who claims to control six properties in St. Louis, including this single-family home on Greer Avenue in the north side's 4th ward. The surrounding houses are a mix of vacants and those holding on. The house Williams owns has been home to, depending on whom you ask, sixteen to eighteen people, many without more than a room to call their own.
PHOTO BY ROBERT LANGELLIER
Je're Reid's room on Greer Avenue.
Williams has a reputation, according to many residents and neighbors, of using various strongman approaches to property governance, including (take a deep breath): overcrowding; verbal abuse; maintenance neglect; roach, spider and mold infestation; coercing residents to make him their disability or social security payee; withholding lease copies from tenants; evicting tenants overnight with no judicial process; holding a tenant at gunpoint; and capriciously raising the rent. He's told tenants he needs more money to pay for an indoor pool for his son. He previously ran a nonprofit with the mission of housing disadvantaged renters getting their lives back together; state records show it was dissolved in January 2017 for failure to file the proper paperwork.
Reached by phone Friday, Williams denies the more serious accusations as "ludicrous" and calls his accusers "nasty," blaming Reid, for example, for the roach infestation. He declines to comment on other accusations, like those involving the pool and his family. He also refuses to disclose any other addresses he owns, though he has people claiming to be his tenants call a reporter to testify on his behalf. He claims that Reid and other unhappy tenants are behind on rent, a charge they all deny.
"They come with nothing," Williams says. "They ain't got a bed. They ain't got a dresser. So how in the world can you have somebody to make a complaint [when they] don't want to pay rent?"
Last week, Williams was threatening to padlock the front door if Reid and two other tenants were not gone by the following morning. Reid went to ArchCity Defenders, the non-profit legal group.
In response to what ArchCity considered an illegal eviction, its lawyers slapped him with a cease-and-desist order and organized a small demonstration overnight to stop him.
In St. Louis, a landlord needs a court order and to provide 30 days' notice in order to evict a tenant. The order also accuses Williams of "breach of the covenant of quiet enjoyment, negligence, breach of contract, conversion of personal property, trespass and intentional infliction of emotional distress."
Williams says he's being unfairly blamed for a bad situation.
Of his tenants, he says, "They don't have nowhere to go. They can't pay a light bill. They can't pay a gas bill. They can't buy a bed. They can't buy a sheet. They can't buy a stove or refrigerator. So you let them move in because you have mercy on them. They want to live there free."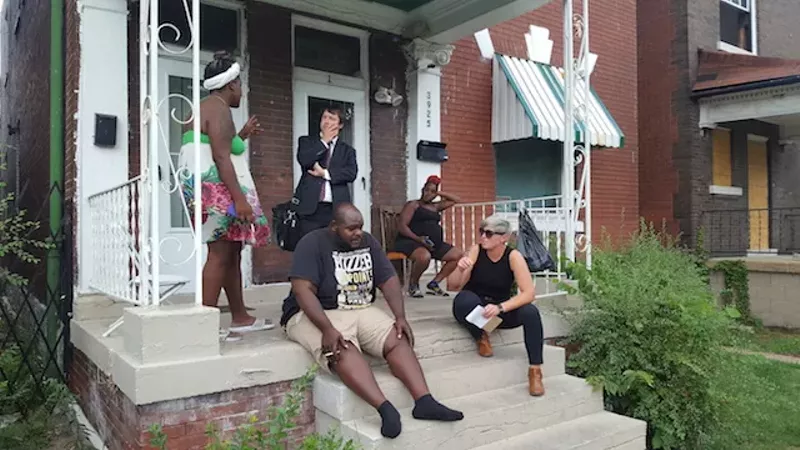 PHOTO BY ROBERT LANGELLIER
Je're Reid, far left, talks to Lee Camp of ArchCity Defenders.
Elizabeth Vega, a community activist
who runs a house down the street, sits on Reid's porch Friday morning, surrounded by about fifteen protesters and speaking with Thomas Harvey of ArchCity Defenders. She's had to take in four or five residents that Williams has evicted in the past, cases that she says also lacked the proper 30-day notice. "It's sort of a Catch-22, because if they shut [Williams] down, then there's a bunch of people who won't have any place to go," she says.
Lack of affordable housing stock is the root source of many illegal evictions, according to Harvey. "This woman has benefits," he says of Reid. "She should be able to find housing. But unfortunately, and I would guess that not only the other residents in this house, but the other people up and down the street and throughout this region, are forced into horrifying conditions with bugs, or they don't have bathrooms, don't have access to a shower, or locked in a basement, because the city of St. Louis and the St. Louis region hasn't committed to providing affordable housing for folks that are vulnerable."
At 9:15 am, one of Williams' representatives shows up to evict Reid. Seeing the demonstration on his building's front yard, she calls Williams instead. After a verbal exchange with Arch City's lawyers, she leaves.
Reid is left on the porch, technically not evicted but with nowhere safe to go. "I want to be able to sleep without bugs," she says, sobbing. "I want to be able to sleep without breathing in mold. I want to be able to sleep and not have to deal with all of this. "With the exception of three hours of sleep I've been up for 72 hours trying to keep these bugs off my daughter."
"You know what happens when you cry, right?" her daughter says, leaning into her. "I have a permanent twitch now," Reid continues. "I got over the permanent twitch when I was a kid. Now I'm back to twitching because I feel like they're everywhere, all over me. This is not right."
At least Reid has the weight of ArchCity Defenders supporting her. Harvey calls a friend and finds her a three-bedroom apartment where she can stay for 30 days, rent free. Many other people in St. Louis are not so lucky.
Thirteen percent of St. Louis residents make under $10,000 a year, which is low enough to qualify for low-income housing. St. Louis manages about 7,000 Section 8 vouchers, but has a waitlist of more than 23,000 families — a whole lot of Je're Reids.
To assist Je're Reid, ArchCity Defenders is referring people to a crowd-funding campaign.

Editor's note: We've updated this story to properly identify Lee Camp in a cutline. We also added a link to a crowd-funding campaign for Je're Reid.