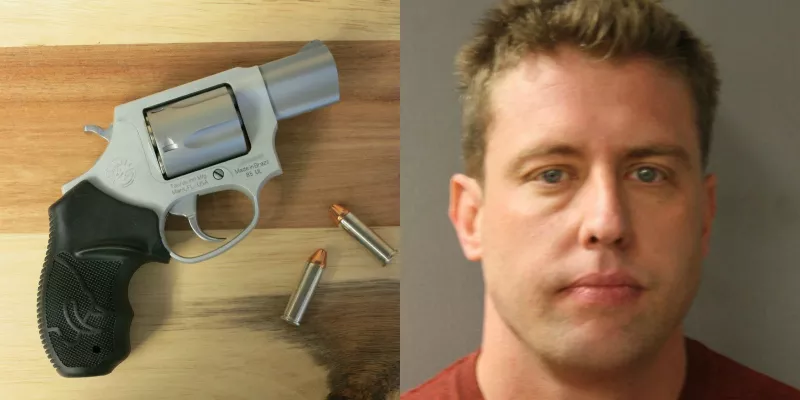 Photo via James Case/Harris County Sheriff's Office
Ex-St. Louis Jason Stockley is accused of planting a .38 Taurus revolver to cover up a murder.
Over the last three days, prosecutors have called eighteen witnesses to testify in
the murder trial of former St. Louis cop Jason Stockley
, and nearly every one of those witnesses has been questioned about the importance of wearing gloves.
The question might seem a little ... basic, and the answers have varied little between police officers, detectives, crime scene technicians and DNA analysts: Gloves, of course, prevent contamination of evidence and protect the wearer from possibly infectious bodily fluids.
But there's a good reason prosecutors are hammering on the simple question — they're working to fortify their argument that Stockley was not following basic procedures for a murder scene, which is particularly significant since it was a murder scene he created after fatally shooting Anthony Lamar Smith five times on December 20, 2011.
Prosecutors argue that Stockley broke several police policies: Officers are supposed to wear gloves when handling evidence. Stockley didn't. Officers shouldn't open fire on fleeing suspects. Stockley did. Officers need authorization to carry personal weapons in the field. Stockley was wielding his own AK-47 pistol variant without official permission.
Stockley's defense has repeatedly objected to this line of attack. His lawyers argue that their client isn't on trial for violating departmental policy. Last year, Stockely was arrested and charged with first-degree murder, and when it comes to proving that case, these last three days of trial haven't produced much in the way of bombshell revelations.
There is the matter of the "kill shot." On Thursday, prosecutors called FBI firearms analyst Doug Halepaska, who testified that after studying the bullet holes found in Smith's jacket, one hole, in the upper left shoulder, showed a gunshot residue in a pattern indicating "a fairly close shot."
In a lab setting, Halepaska recreated the shot using Stockley's service weapon and a similar jacket to the one Smith was wearing the day he was killed. The tests, Halepaska testified, showed that the shot occurred at a distance of six inches or less.
Around midday on December 20, 2011, Stockely had been riding in a police SUV driven by his partner Brian Bianchi in north city when he spotted a suspected drug transaction in a Church's Chicken parking lot. The officers attempted to pull up behind Smith, who was in the driver's seat of a Buick sedan. Smith backed his car into the police SUV and made a break for it.
Surveillance video captures the escape and the start of a high-speed police pursuit. Still in the parking lot, Stockley can be seen on video carrying his AK-47 as Smith whips by. However, Stockley never fired the AK. Rather, he used his service weapon to shoot seven times at Smith's fleeing vehicle.
Stockley and Bianchi gave chase, tailing Smith for three miles before crashing the police SUV into Smith's Buick near the intersection of West Florissant and Acme avenues. Dashcam footage captures Stockley approaching the driver's side of the Buick and unloading five shots through the driver's side window. Stockley claimed that Smith was armed and preparing to shoot. Stockley's defense attorneys contend that it was a clear case of self-defense.
But something in the video footage convinced St. Louis Police Lt. Kirk Deeken to contact the FBI in 2011. Called to the witness stand Thursday, Deeken said he had been working as an Internal Affairs investigator at the time.
Deeken never got the chance to fully explain himself during yesterday's proceedings.
That's because Stockley's defense attorney, Neil Bruntrager, unleashed numerous objections to Deekon testifying about the video and audio evidence. It's a critical piece of the prosecution's case: During the chase, prosecutors say that the dashboard camera picked up Stockley saying, of Smith, "I'm going to kill this this motherfucker, don't you know it."
On the stand, Bruntrager questioned whether Deekon could actually hear what Stockley was saying above the blaring police radio and sirens. Deekon conceded it took very attentive listening — with headphones — to pick up the outburst. (Stockley's alleged statement about killing Smith comes around the four-minute mark in the video embedded in
this St. Louis Post Dispatch story from 2016
.)
After Bruntrager's objections, St. Louis Circuit Judge Timothy Wilson ordered a recess for lunch. When the court reconvened, however, Deeken was dismissed from the witness stand. Both the prosecution and defense attorneys had apparently decided that they had no further questions for him.
The second half of yesterday's proceedings concerned the .38 revolver found in Smith's car after the shooting. Prosecutors accuse Stockley of planting the gun to cover up the murder.
Stockley's DNA was found on the revolver, but that alone doesn't prove anything nefarious — remember, Stockley didn't wear gloves at the scene. After the shooting, Stockley was allowed to search Smith's car himself, and there is no doubt that he handled the weapon while unloading it.
Prosecutors spent much of Wednesday questioning why Stockley was given permission to conduct his own search of the car.
Crime scene analysts who worked on the case in 2011 testified Thursday that Stockley's DNA was present on the .38 revolver found in Smith's car, but Smith's was not. In response, Stockley's attorney's argued that the absence of DNA cannot be used to prove that Smith never touched the gun.
Crucially, forensic evidence doesn't distinguish the
source
of the DNA, a limitation that appears to be a blow for the prosecution.
During the opening statements on Tuesday
, Assistant Circuit Attorney Aaron Levinson had claimed the DNA on the revolver came from Stockley's blood. Since Stockley showed no cuts on his hands on the day of the shooting, the logic goes, Stockley's blood on the revolver would indicate that he had touched the weapon before the day of the shooting. And that, of course, would indicate he planted it on the suspect after he killed him.
The prosecution is believed to have called its final witness Thursday. The Circuit Attorney's office appears to be prepared to rest its case pending several issues set aside by Judge Wilson that still need resolving before the trial can progress.
Stockley's defense is expected to call its first witnesses when the trial picks back up on Tuesday.

Follow Danny Wicentowski on Twitter at @D_Towski. E-mail the author at Danny.Wicentowski@RiverfrontTimes.com