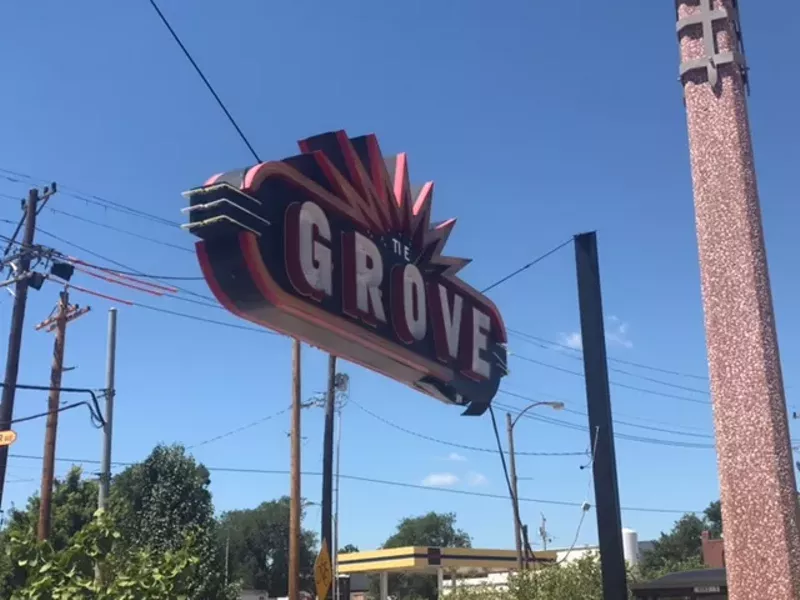 PHOTO BY QUINN WILSON
Some damage was visible to the sign this afternoon.
A portion of Manchester Avenue was closed around noon today after a passing vehicle smacked into the Grove's overhead sign, damaging its underside.
The street was closed from Sarah Street to Vandeventer, with crews apparently working to shut off electricity.
The illuminated signs hang over the two entrances to the south city neighborhood, with one near its eastern apex at Sarah Street and the other about a half-mile west, near Taylor.
In a prepared statement, the Grove Community Improvement District attributed the damage to a "refuse truck."
"Immediately following the incident, The Grove Community Improvement District (CID) worked with the St. Louis Metropolitan Police Department to close a portion of Manchester Avenue to ensure the safety of vehicles and pedestrians in the area," the district's statement said. "Specialized crews have secured the sign in place and are working with the CID to assess the damage and schedule repairs. Manchester Avenue is currently open to vehicular and pedestrian traffic."
In its initial report on the incident, KMOX noted melodramatically, "It's unclear if heading into St. Louis' Grove neighborhood will ever look the same."
For anyone worried about the future of the neighborhood, however, we'd say heading into the neighborhood will probably look
pretty close
to the same going forward ... even if they have to turn off the lights for a bit (or file an insurance claim to get them back on).
Still, damn those garbage trucks!
PHOTO BY QUINN WILSON
The damage is fairly small.
Quinn Wilson contributed to this story.

Editor's note: This story was updated at 4:25 p.m. to include a statement from the Grove Community Improvement District.