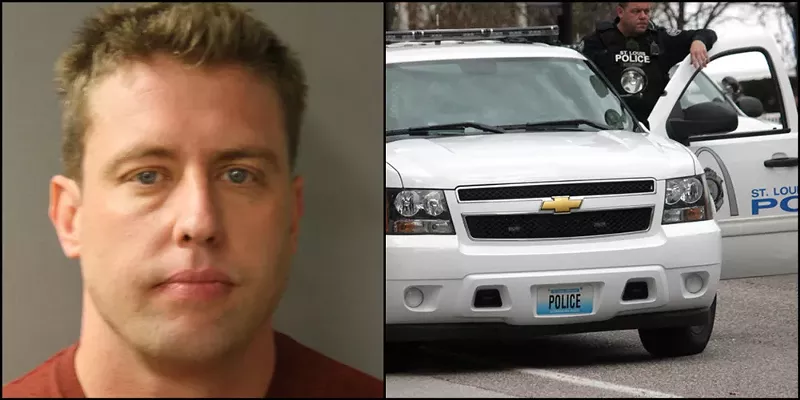 Photo via Harris County Texas Sheriff's Office/Danny Wicentowski
Charged with Murder in 2016, ex-St. Louis Cop Jason Stockley was involved in a 2011 street pursuit that ended with him killing a suspect.
The opening salvo of Jason Stockley's murder trial filled the benches inside a fifth-floor courtroom on Tuesday, kicking off what is expected to be a lengthy legal fight over whether the former St. Louis cop is guilty of murdering Anthony Lamar Smith following a high-speed chase in December 2011.
There's no question Stockley killed Smith in the line of duty, and though it's generally unusual for an officer-involved shooting to lead to criminal charges, Stockley's position is arguably the rarest of all — prosecutors accuse him of committing premeditated murder. And unlike recent high-profile cases of cops facing jury trials in Minnesota (acquitted) and Ohio (deadlocked), Stockley has actually waived his right to face a jury.
Instead, Stockley's fate comes down to a single judge, St. Louis Circuit Judge Timothy Wilson. Wilson has a tough job. He's tasked with absorbing the details of a complicated case while also refereeing a trial featuring aggressive attorneys and bold claims on both sides.
Wilson began Tuesday's proceedings with a word of warning for the crowd of onlookers. Disruptions would not be tolerated. "Earlier this year, Ringling Brothers Circus died," quipped the judge. "It will not be resurrected here."
The courtroom audience, which swelled in the morning to about 70, was largely well-behaved, although at one point a bailiff ordered three men to leave the court because of their audible reactions to the evidence being presented.
Stockley appeared in court dressed in a gray suit and striped black-and-white tie. He showed few signs of emotion on Tuesday. The broad-shouldered West Point graduate and decorated Army veteran resigned as a police officer in 2013, the same year the city
reportedly
reached a $900,000 civil settlement with Smith's daughter, who was one year old when her father died.
In May 2016, Stockley was living in Houston, Texas,
when he was charged with murder and arrested
. Jailed in St. Louis, Stockley was quickly released with the help of the St. Louis Police Officers Association — the union which represents most of the city's cops — which posted $100,000 of his $1 million bail.
The police union's controversial business manager, Jeff Roorda, attended the entirety of Tuesday's proceedings.
Roorda previously blasted former Circuit Attorney Jennifer Joyce for bringing charges against Stockley
. It was Joyce who revived the case in light of unspecified new evidence. Stockley's defense attorneys, as well as Roorda, insist that no such evidence exists.
On a rainy day in December
more than five years ago, then-officer Stockley and his partner Brian Bianchi spotted what looked like a drug transaction at a Church's Chicken located at Thekla Avenue and Riverview Boulevard in north city. But when Stockley and Bianchi's police SUV pulled up behind Smith's silver Buick, Smith attempted to make a nine-point turn and flee the parking lot. In the process, Smith's knocked against the police SUV and nearly clipped Stockley, who was on foot and carrying a personal AK-47 at the time.
It's unclear why Stockley was so heavily armed — he was not authorized to carry the AK-47 on the job — but he used his department-issued handgun to fire seven shots at the escaping Buick. The officers gave chase, with Bianchi driving Stockley reporting the incident over the radio.
Three miles later, the police SUV ended the pursuit by ramming the rear of Smith's Buick.
Dashboard cameras captured what happened next
: Stockley approached the Buick and seemed to struggle lifting the deployed airbags. Then he fired five shots through the driver's side window. Stockley claimed that Smith was going for a gun, a .38 revolver that Stockley himself recovered after Smith's body was removed from the driver's seat.
During the opening statement for the prosecution, Assistant Circuit Attorney Aaron Levinson stated that evidence would show that Stockley had fired the fifth shot from a distance of six inches, essentially murdering Smith in cold blood.
"That was a kill shot," Levinson said. A medical examiner determined Smith had been struck twice in the left flank and once in the neck, upper chest and forearm.
The "kill shot" was just one of the explosive allegations in Levinson's opening statement: Stockley, he said, had escalated the incident at Church's Chicken, encouraged the dangerous pursuit, declared his intent to kill Smith and within minutes made good on that promise. Stockley, said the prosecutor, had "executed" Smith — and then planted the .38 revolver to stage the scene.
"Anthony Smith didn't deserve to die on December 20, 2011," said Levinson, "but Jason Stockley took his life anyway and tried to cover it up."
Tuesday's hearing marked the first time St. Louis prosecutors have unambiguously accused Stockley of planting the gun in Smith's vehicle, a contention Levinson claims is backed up with DNA evidence — only Stockley's DNA was detected on the gun, he said.
But planting on a gun on Smith's body
isn't
the reason Stockley is a facing a first-degree murder charge. Stockley, prosecutors allege, didn't fire on Smith out of fear for his own life or or genuine confusion. According to state statutes, winning a guilty verdict on a first-degree murder charge requires that prosecutors prove beyond a reasonable doubt that Stockley "knowingly cause[d] the death of another person after deliberation upon the matter."
Where is that deliberation? Levinson referenced the police SUV's dashboard recording, which he said captured Stockley stating, "I'm going to kill this this motherfucker, don't you know it."
"He literally says what he's going to do," noted Levinson.
But did he really? Stockley's defense team, lead by attorney Neil Bruntrager, contend that the ex-officer never said those words. Bruntrager argued that it is
impossible
to know what Stockley was saying because the dashboard audio recording was drowned out by the multiple radio bands blaring inside the police SUV. Stockley's defense even requested that the judge prohibit the dashboard recordings from being entered into evidence, a request the judge ultimately rejected. (The dashboard recordings were first publicized
and posted
by the
St. Louis Post-Dispatch
last year. The audio is indeed very noisy and some of the in-car dialogue is difficult to make out. Even on multiple listens, it's not clear when Stockley says those precise words.)
Bruntrager also rejected prosecution claims that Stockley planted the gun or fired a "kill shot," which the attorney dismissed as a "magic bullet theory."
In Bruntrager's opening statement, he said that Smith was the "initial aggressor" responsible for creating a "violent encounter" that ended in his own death. Stockley and Bianchi both claim that they saw Smith's revolver at Church's Chicken, prior to the car chase.
"Stockley acted reasonably," Bruntrager said, "And it's the state's burden to show that it was not."
The trial continues today with additional witnesses and evidence. The case could take weeks before Judge Wilson is ready to issue his verdict.


Follow Danny Wicentowski on Twitter at @D_Towski. E-mail the author at [email protected]