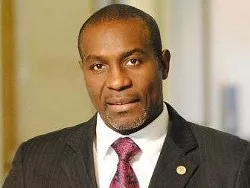 ERICA M. BROOKS/BUSINESS PLUSS++ PHOTOGRAPHY
Lewis Reed, president of the St. Louis Board of Aldermen.
Last month, Governor Eric Greitens charged into the debate over St. Louis' crime problem, saying
it was time to take action
and ordering state troopers to start patrolling highways within the city.
But yesterday, Lewis Reed, president of the city's Board of Aldermen, called for Greitens to do something else: Give the city more money.
In a letter dated July 31, Reed said he believes the state owes the city $20 million, saying the city has been picking up more than its rightful share of the cost of housing state prisoners.
"With looming reductions in federal assistance to cities like ours, the city of St. Louis can no longer subsidize 75 percent of the cost of housing state detainees," he writes. "The state needs to reimburse us at the rate of $37.50 per day, as prescribed in the statute."
Indeed, under state law, the state reimburses cities for holding defendants facing state charges — or who have later violated terms of their parole or probation. By statute, the state can reimburse "up to $37.50" per day per prisoner.
But, Reed says, the state has only been paying $21.08 per detainee. That's even though the city's costs are $80 per day.
The difference between what the state could pay, and what it does pay, cost the city approximately $5.7 million last year, Reed writes.
A spokesman for Greitens did not immediately respond to a request for comment early this morning. We'll update this post if we hear back.
In the mean time, KTVI (Fox-2) made Reed's demands the subject of a news report last night. You
can catch that online here
.